Prunus domestica 'Belle de Septembre'
A Prunus domestica L. cultivar. 'Fruit large, roundish-oval, marked with a shallow suture. Skin thin, violet-red, thickly covered with yellow dots, and a thin blue bloom. Stalk half an inch long, slender, inserted in a shallow cavity. Flesh yellowish-white, firm, juicy, sweet, and aromatic. Shoots downy. A first-rate plum for cooking or preserving; it furnishes a fine crimson juice or syrup. Ripe in the beginning and middle of October.' [Hogg – Fruit Manual p.231/1860].
Horticultural & Botanical History
'Belle is an unusually large, handsome plum but unfortunately is not of very high quality. It is much like Pond but is brighter red, a little smaller, less necked, the stem is shorter, the apex more blunt and it is more of a clingstone. European authorities say that Belle is second to none for culinary purposes and its handsome appearance gives it value across the seas as a dessert plum. […] Belle came from Brussels, Belgium, and was propagated by the famous horticulturist, Van Mons. Nothing further is known of its origin.' [Plums of New York p.158].
'This proves to be a useful variety. It is large, oval, of a bright red colour. In England it does not ripen till the middle of October, and it is very hardy, excellent kitchen fruit.' [Gard. Chron. 1854].
History at Camden Park
Listed in Addenda to the 1857 catalogue as 'Belle de Septembre' [Plum no.18/1857].
Notes
Published May 27, 2010 - 03:38 PM | Last updated Jul 21, 2011 - 05:16 PM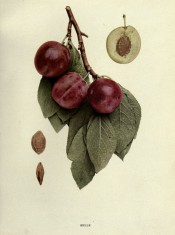 Family
Rosaceae
Category
Region of origin

Garden origin, Belgium

Synonyms

Belle
Autumn Beauty
Lawrence Early
Gros Rouge de Septembre
Reine-Claude Rouge de Septembre
Reine-Claude Rouge de Van Mons
Reina Nova
Rote Claude
Van Mons Red Gage
and others, similar

Common Name

Culinary Plum, autumn

Name in the Camden Park Record

Belle de Septembre

Confidence level
high