Prunus avium 'Bigarreau'
A cultivar of Prunus avium L. 'Fruit large, of an irregular, obtuse, heart-shaped figure, flattened at its base. Stalk two inches long, inserted in a very shallow cavity. Skin pale yellow, becoming amber-coloured when matured, and of a fine red on the sunny side. Flesh firm, pale yellow, slightly adhering to the stone, which is large and round. Juice sweet and well flavoured. Ripe usually the end of July or beginning of August. Young shoots very strong, with a white epidermis. [George Lindley – Orchard Guide p.148/1831].
Horticultural & Botanical History
An old variety, Rivers described it and gave some of its history in his catalogue of fruit trees: 'This is the Bigarreau sold in the streets, often very cheaply. An old tree of this variety exists here in the last stage of decay, but it still bears very fine fruit. The tradition is that the scion which produced it was given to my grandfather by Baron Dinsgate, who brought it from Russia on his return from inoculating the Empress Catherine.' [Rivers' Catalogue of Fruit for 1853 and 1854, reported in Gard. Chron. 1853].
'The Bigarreau, or Graffion, cherry is sold in many nurseries under both appellations, as distinct sorts; but I could never discover any difference, after cultivating them for years. The Bigarreau cherry is the strongest upright grower in its young shoots of all the cherries now cultivated; and it has also the largest leaves, excepting the Tobacco-leaved. It is too tender for an open standard, except in a warm sheltered situation. It is best to plant it against an east or south-east wall.' [George Lindley – Orchard Guide p.148/1831].
'The above name ['Bigarreau'] is applied by Du Hamel to several varieties, forming a tribe in the class of heart-shaped cherries; but the individual which is here represented [and reproduced on this page], and is well known to every gardener, does not appear to have been described among those varieties, and approaches nearer to the ambree, though this is ranged by the above-named naturalist in the class of round cherries. This division into two classes does not appear to be grounded on those positive and certain characters which are requisite; the gradation in the form of cherries, from heart-shaped to round, being uncertain and often imperceptible, occurring not unfrequently on the same tree; and indeed the ambree, which is classed among the round fruits, is admitted by Du Hamel to be of cordate form, and the tree to resemble in most respects those of the class of heart-shaped cherries.' [PL pl.46/1818].
Bowman [1939] describes the common Biggareau of Australia, synonyms common White Biggareau, Mottled Biggareau, Yellow Spanish, as a white fleshed variety, fairly firm but tending to bruise. Mid-season, productive but of little commercial value.
Figured in Pomona Brittanica [PB pl.X/1812] in Traite des Arbres Forestiers [Saint-Hilaire Tr. pl.48/1825] and in Pomona Londinensis [PL pl.46/1818]. Of these figures Saint-Hilaire's is the most heart-shaped cherry and that of the Pomona Londinensis the least.
History at Camden Park
Listed in the 1845, 1850 and 1857 catalogues [Cherry no.4/1845]. Spelt 'Biggareau' in the 1845/50 catalogues and 'Bigarou' in the 1857 edition.
Notes
Published Apr 22, 2010 - 04:55 PM | Last updated Jul 23, 2011 - 04:52 PM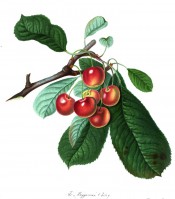 Family
Rosaceae
Category
Region of origin

Garden origin, unknown

Synonyms

Graffien
Turkey Bigarreau

Common Name

Dessert Cherry

Name in the Camden Park Record

Bigarreau

Confidence level
high