Prunus armeniaca 'Breda'
A cultivar of Prunus armeniaca L. 'Rather small, roundish, compressed on the sides, and sometimes entirely four-sided. Skin deep orange, dotted with brown spots next the sun. Suture well defined. Flesh deep orange, rich, highly flavoured, and free. Stone small, roundish, impervious on the back. Kernel sweet, with the flavour of a hazel-nut. End of August.' [Hogg – Fruit Manual p.38/1860].
Horticultural & Botanical History
'The Hemskirke, Turkey, Royal, and Large Early Apricots, already figured in the Pomological Magazine, are of great importance, on account of their size and rich flavour. The Breda, although not so large as these, claims, on some other accounts, an important rank. In regard to flavour, it is excellent; and it may not perhaps be generally known, that in ordinary seasons it bears remarkably well on standards. Although the fruit is smaller, yet the flavour is rendered so delicious as to make amends.
The Breda Apricot is stated by Miller to have been so called from its having been brought from [printing error, words missing but probably Breda in Holland] thence to England; but it was originally from Africa. Miller's sort, however, is not the same as this, for he describes it as being a large fruit, with a larger stone than any other sort; in the latter respect, this is almost the reverse. It is confused with some others on the continent, as well as in this country. The Abricot Pêche or Moor-Park, and its affinities, have probably been so called in some places. Few, however, can now be mistaken for it. The Orange and Breda are the only two with sweet kernels, generally in cultivation in this country. The former may be easily distinguished by its brighter orange colour, and flesh adhering to the stone. The latter is remarkable for its figure, being often angular, as if the fruit had been pressed by close package in a box. Perhaps the latter distinction is less observable in a continental climate than here, and hence the Orange is included among the synonyms of the Breda, in the Pomona Franconica and Austriaca.' [PM t.146/1830].
A first quality apricot and excellent for preserves. August. [Proc.RHS 1862-1865. PB pl.XX/1812.
History at Camden Park
Listed only in Addenda to the 1857 catalogue [Apricot no.5/1857].
Notes
Published Apr 20, 2010 - 05:12 PM | Last updated Jul 23, 2011 - 05:06 PM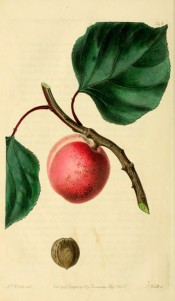 Family
Rosaceae
Category
Region of origin

Garden origin, uncertain, possibly Holland, but it may have been introduced there from Africa

Synonyms

Abricot de Hollande
Hollândische
Bredaische
Amande Aveline
Orange Apricose
Royal Persian
Brussels

Common Name

Apricot

Name in the Camden Park Record

Breda

Confidence level
high