Prunus armeniaca L.
A small rounded tree with ovate, toothed leaves and white or pinkish flowers often crowded on short spurs, followed by round yellow fruits, to 5cm across and often red tinged. To 8m. [RHSD, Hortus, Hilliers'].
Horticultural & Botanical History
Apricots originated in northern China and were first propagated there about 4000 BCE, spreading via the Silk Route to India, where they appear to have been known for 5000 years or more, and then on to the Orient and the Middle East. Ancient Greeks and Romans were familiar with apricots, probably introduced from Turkey or Armenia where they have been known since ancient times. The apricot is believed by some to have originated in Armenia, its long history of cultivation there, and the specific epithet armeniaca quoted as evidence. But Linnaeus named the apricot Prunus armeniaca in 1753, many centuries after its probable introduction to Armenia in the belief that this was its region of origin. At the time Armenia was a major centre of production. Neighbouring Turkey is now the world's leading producer. [www.apricot-oil.com/en/apricots/apricot_history and other internet sources].
The apricot has been grown in Mediterranean Europe since Roman times but was only introduced to cultivation in Britain, probably from Italy, in about 1500 'it is said by the gardener to Henry VIII. In old writings it is called Abricock or Apricock, a stage in the evolution of the name from the Arabic al and the Latin praecox, the precocious, referring to its early ripening.' [RHSD]. The illustration from Pomona Brittanica shows four varieties of apricot, from top left, 'White Masculine', Red Masculine', 'Orange Apricot' and 'Turkish Apricot'.
History at Camden Park
Seven varieties of apricot are listed in the Hortus. With each entry the Latin binomial is given followed by the varietal name, for example, Prunus armeniaca 'Moor Park'. Other names by which this apricot is known, or has been known in the past, are given under synonyms. All descriptions are taken from contemporary literature.
Notes
Published Apr 20, 2010 - 04:40 PM | Last updated Jul 23, 2011 - 05:15 PM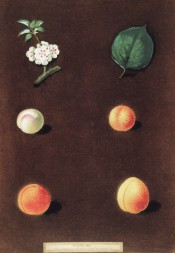 | | |
| --- | --- |
| Family | Rosaceae |
| Category | |
| Region of origin | Northern China |
| Synonyms | |
| Common Name | Apricot |
| Name in the Camden Park Record | Apricot |
| Confidence level | high |