Pittosporum undulatum Vent.
Half hardy, dense, rounded tree with lance-shaped, wavy-margined leaves and terminal umbel-like clusters of fragrant, creamy white flowers in spring and summer, followed by orange-brown capsules. To 24m. [RHSE, Hilliers'].
Horticultural & Botanical History
'This shrub was introduced by Sir Joseph Banks from New Holland in 1789. It is desirable on account of the great fragrance of the bloom, which is compared by some to that of Jasmine; to us it appears far stronger, but not so grateful. Monsieur Ventenat was misinformed, when he stated it to be a native of the Canary Islands. A thick strongly aromatic liquid exudes from the pores in the rind, congeals into a thin resinous coat, and at last breaks down into a whitish powder. Dr. Solander has compounded the generic name of two greek words, importing that the seed is covered with pitch or resin. The present is a hardy greenhouse plant, and flowers from March to May. Multiplied by seed and cuttings. The drawing was made at Messrs. Lee and Kennedy's, at Hammersmith.' [BR f.16/1815]. ABR pl.383/1804.
History at Camden Park
Listed only in the 1857 catalogue [T.763/1857].
Notes
A less likely, but possible, identification is Pittosporum taitense Putt., synonym Pittosporum undulatum Guill, a native of the Pacific Islands including Tahiti. This plant could have been received from John Bidwill during his stay in Tahiti during 1845 and 1846 but I have no specific record of this..
Published Mar 25, 2010 - 01:12 PM | Last updated Mar 25, 2010 - 01:18 PM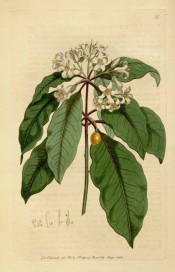 | | |
| --- | --- |
| Family | Pittosporaceae |
| Category | |
| Region of origin | Eastern Australia |
| Synonyms | |
| Common Name | Victorian box, Australian mock orange, Cheesewood, White holly, Native daphne, Engraver wood |
| Name in the Camden Park Record | Pittosporum undulatum |
| Confidence level | medium |