Physostelma wallichii Wight
Frost tender climbing shrub with opposite, leathery, oblong, pointed leaves, and cyme-like umbels of somewhat bell-shaped, green and yellow flowers in spring. [RHSD].
Horticultural & Botanical History
'This very curious plant [Hoya campanulata] is a native of Java, where it was found by Dr. Blume, who describes it as an inhabitant of mountain thickets on the west of the island; it is called by the natives Tjunkankan, and flowers all the year round. Its introduction is due to Messrs. Veitch, of Exeter, to whom it was sent by Mr. Thomas Lobb, and from whom we received the specimen now represented in April, 1846. Its habit is altogether that of a thin-leaved Hoya, but its peculiarly formed corolla gives it a different appearance. On this account M. Descaine removes it to the genus Physostelma, but as he does so doubtfully, and as it wants the bladdery coronet which is proper to that genus, giving it its name, it does not seem desirable that the current nomenclature should be disturbed.' [BR f.54/1847].
'A very remarkable stove-plant, native of copses in the mountainous districts of Java, detected by Blume, and imported into England by Messrs. Veitch and Sons (to whom we are indebted for living plants) through the medium of their collector, Mr. Thomas Lobb. We agree with Dr. Lindley that, remarkable as is the form of the corolla, there is nothing to justify its separation from Hoya; and it does not accord with Physostelma of Dr. Wight, to which Professor Decaisne has doubtfully referred it. If distinct from Hoya, it should bear Harskal's name above quoted. Blume makes a section of it: "Corolla campanulata, angulato-5-plicata, corona foliolis angulo exteriori adscedentibus integerrimis." It bears its curious, somewhat waxy and pale buff-coloured flowers in August.' [BM t.4545/1850].
History at Camden Park
Recorded in a hand written entry in an 1850 catalogue held at the Mitchell Library, inscribed on the front Wm. Macarthur, 23rd Dec. 1854. [ML 635.9m]. It was requested of Kew Gardens on 1st February, 1849 [MP A2933-1, p.177] and of John Lindley at the Horticultural Society on the same date [MP A2933-1, p.182a].
Notes
Published Feb 23, 2010 - 05:18 PM | Last updated Jul 14, 2010 - 02:54 PM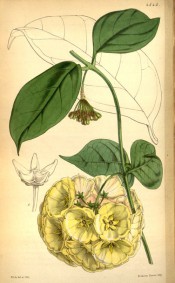 Family
Asclepiadaceae
Category
Region of origin

East Indies

Synonyms

Hoya campanulata Blume
Hoya wallichii (Wight) C.M.Burton
Hoya darwinii Hort.
Physostelma campanulatum Decne.
Cystidianthus campanulatus Harsk.

Common Name

Bell-flowered Hoya

Name in the Camden Park Record

Hoya campanulata

Confidence level
high