Philadelphus latifolius Schrad. ex DC. var. pubescens Dippel
Fully hardy deciduous shrub with ovate, entire or toothed leaves, to 8cm long, and racemes of scentless white flowers in summer. To 5m. [RHSD, Hortus].
Horticultural & Botanical History
A doubtful species. 'Philadelphus pubescens Loisel. Herb. Gen. Amat. pl. 268/1820. (P. verrucosus Schrad.; DC. Prodr. 3: 205. 1828. P. globosus, P. dubius, P. nivalis and P. niveus K.Koch, Dendr. 1: 343, as synonyms. 1869.) Described from cultivated material, which Loiseleur states had been received originally from the United States through Fraser. It is however unknown in the native state, although common in cultivation. It resembles P. latifolius, but the bark is chestnut-brown instead of gray. May be a hybrid with P. coronarius. Illustrations: Herb. Gen. Amat. pl. 268/1820; Bot. Reg. 7: pl. 570.' [NAF vol.22 part 2, p.174/1905].
The North American Flora considers the Philadelphus grandiflorus figured and described in the Botanical Register and ascribed to Pursh, to be Philadelphus pubescens of Loiseleur. 'Said by Pursh to grow on river banks in South Carolina and Georgia. It has been for some time in our gardens; but we are not aware of the precise period when introduced. It is a hardy ornamental shrub. The native samples in the Banksian Herbarium, under the title inodorus, we suspect belong to the present species.
Grandiflorus has been very generally confounded in our gardens with inodorus, which is a scarcer, less robust, and more tender shrub, with a narrow foliage of a lighter green colour than in the present. The leaves in grandiflorus are of a broader shorter ovate form, conspicuously toothed and more fully furred underneath than in the other; the very young ones indeed are very thickly furred underneath, so as to look white, which is never the case in inodorus. The leaves of the young branches, on strong-growing plants, are nearly orbicular in grandiflorus, and in inodorus sometimes broadly ovate.
The drawing was taken at the nursery of Messrs. Colvill, in the King's Road; where the shrub is found to be quite hardy, and of the easiest cultivation.' [BR f.570/1821].
History at Camden Park
Listed in all published catalogues [T.748/1843].
Notes
Philadelphus pubescens Bosc. (1840) = Philadelphus hirsutus Nutt.
Published Feb 14, 2010 - 12:41 PM | Last updated Feb 14, 2010 - 01:44 PM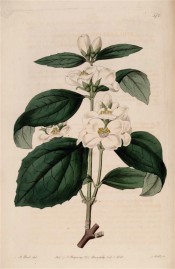 Family
Hydrangeaceae
Category
Region of origin

Eastern United States, but probably of garden origin

Synonyms

Philadelphus latifolius Schrad. ex DC. var. pubescens Dippel
Philadelphus pubescens Loisel.
Philadelphus grandiflorus Lindl.

Common Name

Mock orange

Name in the Camden Park Record

Philadelphus pubescens

Confidence level
high