Paliurus spina-christi Mill.
Frost hardy, bushy, deciduous shrub with slender, thorny shoots, ovate, glossy leaves, to 4cm long, and small cymes of tiny, star-shaped yellow flowers in summer, followed by woody fruit. To 4m. [RHSE, Hortus, Hilliers'].
Horticultural & Botanical History
'Rhamnus, Zizyphus, Paliuris, and Alaternus, were considered by Tournefort as distinct genera, but united by Linnaeus under Rhamnus. More modern Botanists have been inclined again to separate them; Lamarck has restored all four genera; Willdenow, whose footsteps are followed in the Hortus Kewensis, unites Paliurus and Zizyphus; though, to us, they appear to differ as materially as any two of the above genera.' [BM t.1893/1817].
'The fruit is oblong, about the size of a sloe, with a pleasant taste, furnishing a very pleasant food to the inhabitants of Egypt or Arabia. [...] This is the tree which afforded the crown of thorns put on the head of Christ, as it is common in the East, and is very fit for the purpose, being furnished with many spines well adapted to give pain.' [Don]. Grown in Europe since 1596. [JD].
History at Camden Park
Listed in all published catalogues [T.1005/1843]. Possibly grown to assess its value as a hedging species.
Notes
Published Feb 28, 2010 - 01:27 PM | Last updated Jul 30, 2010 - 05:12 PM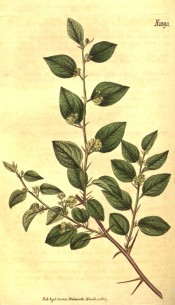 Family
Rhamnaceae
Category
Region of origin

Europe to China

Synonyms

Ziziphus spina-christi Willd.
Paliurus aculeatus Lam.
Ziziphus paliurus Willd.

Common Name

Christ?s thorn, Jerusalem thorn

Name in the Camden Park Record

Zizyphus paliurus - Christ's thorn

Confidence level
high