Oxalis pes-caprae L.
Frost-hardy perennial with erect to spreading and crowded, succulent leaves, consisting of 3, bilobed leaflets, usually covered with brown spots, and umbels of up to 20, drooping, bright yellow flowers, to 2.5cm across, in spring and summer. To 30cm. Mainly winter flowering and summer dormant in the Camden area. [RHSD, FNSW, Beadle].
Horticultural & Botanical History
'The Cape of Good Hope, that most fertile source of curious and beautiful plants, affords numerous species of Wood Sorrel, and, among others, the present one, which is distinguished for the largeness of its blossoms, they are of a fine yellow colour, and when expanded by the influence of the sun, make a very conspicuous figure in the greenhouse; it begins to flower early in April and continues about 2 months in bloom, many flowering stems emerging from the same root. This species is of free growth, and increases plentifully by bulbs, which are produced on the crown of the root, as well as in its fibres; these, when the plant decays, should be taken up, and two or three of the largest planted in the middle of a pot filled with a mixture of bog earth and rotten leaves, well incorporated; towards winter, the pots should be placed in the green-house, or in a frame so secured as perfectly to keep out frost.' Oxalis caprina was first cultivated in Britain by Miller in 1757 under this name. [BM t.237/1793].
LBC no.1109/1827 as Oxalis caprina, LBC no.1154/1827 as Oxalis pes-caprae.
History at Camden Park
Introduced to the gardens before 1843 and listed in all catalogues [B.368/1843]. Now a major weed pest in many parts of Australia and gazetted a noxious weeds in some southern states. Locally naturalised at Camden Park in the house garden but largely confined to the garden and not a significant weed in the surrounding farmland.
Notes
Published Jan 28, 2010 - 02:30 PM | Last updated Jan 28, 2010 - 02:41 PM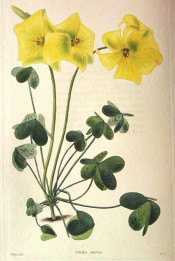 Family
Oxalidaceae
Category
Region of origin

South Africa

Synonyms

Oxalis caprina L.
Oxalis cernua Thunb.
Oxalis dentata Eckl. & Zeyh.
Bolboxalis cernua Small

Common Name

Bermuda buttercup, English weed, Soursob, Goat?s foot wood sorrel

Name in the Camden Park Record

Oxalis cernua

Confidence level
high