Oxalis obtusa Jacq.
Bulbous perennial which grows to about 15cm and bears copper-coloured flowers. 'The leaves are cordate, shorter than the peduncle, which has two small linear bractes, about an inch below the flower. The outer edges of the segments are of a deeper colour, which gives the bud a very pleasing appearance. Several flowers are produced in succession from a single bulb, lasting a good while, but require sunshine and warmth to open them.' [LBC no.824/1824].
Horticultural & Botanical History
'We received [Oxalis cupraea] in the summer of 1823, from the Cape of Good Hope, and, in consequence of its late arrival, it did not flower till October and November. […] It may be kept in the green house, and potted in sandy peat and loam: it increases itself by offsets from the root.' [LBC no.824/1824]. 'The foliage of this very pretty plant only rises to 2 or 3 inches, but forms a lovely green carpet. The flowers are of a pretty yellow, slightly tinged with coppery colour. They just rise above the green mass of leaves, and shine with a beautiful striking contrast.' [FC p.269/1852].
History at Camden Park
Oxalis cuprea was introduced to Britain in 1822. [JD].Oxalis cupraea is listed in Loddiges' 1836 catalogue and marked with a 'c' in a copy held at Camden Park. This means that it was almost certainly grown in the gardens sometime between 1836 and 1845. 'Oxalis cuprina' of the catalogues may well be a typographical error with Oxalis cuprea intended.
Notes
The plant figured as Oxalis caprina by both Jacqin [Oxalis: Monographia Iconibus Illustrata tab.76, fig.1/1794] and in Loddiges Botanical Cabinet [LBC no.1109/1826] is almost certainly Oxalis pes-caprae L. which see. This is an unlikely identification for 'Oxalis cuprina'.
Oxalis caprina E.Mey. ex Harv. & Sond. (1860) = Oxalis pes-caprae L which see.
Oxalis caprina Thunb. (c.1820) = Oxalis pes-caprae L. which see.
Oxalis caprina Eckl & Zeyh. (1834) = Oxalis livida Jacq.
Published Jan 28, 2010 - 02:18 PM | Last updated Jan 28, 2010 - 02:28 PM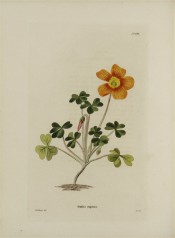 Family
Oxalidaceae
Category
Region of origin

South Africa

Synonyms

Oxalis cuprea Lodd.
Oxalis framesii L.Bolus
Oxalis fimbriata E.Phillips
Oxalis atrata Weintraub
Oxalis ciliariflora Eckl. & Zeyh.

Common Name
Name in the Camden Park Record

Oxalis cuprina

Confidence level
medium