Oxalis livida Jacq. var. livida Jacq.
No definitive description at present. Various internet sources illustrate a low growing species with 3-lobed leaves, the lobes rounded and indented at the apex, and bright yellow flowers, to 3cm across. However, the illustrations of Oxalis dentata in Jacquin's Oxalis: Monographia Iconibus Illustrata (1794) and Oxalis lateriflora in Plantorum Rariorum Horti Caesarei Schoenbrunnensis (1797-1804) show a long-stemmed plant with similar leaves but flower spikes bearing up to 4 purplish-red flowers.
Horticultural & Botanical History
Introduced to Britain in 1793. [JD]. Jacquin O. p.38 t.7/1794.
History at Camden Park
Oxalis dentata is marked with a 'c' in an 1836 edition of Loddiges' catalogue held at Camden Park [CPA]. In William Macarthur's code, used and explained elsewhere, this means grown at Camden. It is almost certain that it was grown in the gardens around this time but may have been short lived as it did not appear in the catalogues. A plant similar to that illustrated in Plantorum Rariorum Horti Caesarei Schoenbrunnensis grows in the gardens, confined to one shady spot. It has been provisionally identified as Oxalis rosea Jacq. but awaits definitive identification.
Notes
Oxalis dentata Eckl. & Zeyh. (1834) = Oxalis pes-caprae L. which see.
Published Jan 28, 2010 - 05:22 PM | Last updated Jan 28, 2010 - 05:32 PM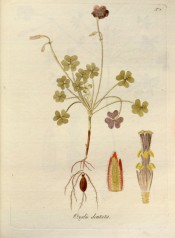 Family
Oxalidaceae
Category
Region of origin

South Africa

Synonyms

Oxalis dentata Jacq.
Oxalis phellandroides E.Mey. ex Meisn.
Oxalis caprina Eckl. & Zeyh.
Oxalis livida Jacq. var. dentata (Jacq.) R.Knuth
Oxalis lateriflora Jacq.

Common Name
Name in the Camden Park Record

Oxalis dentata

Confidence level
high