Oxalis deppei Schlecht. ex Hemsl.
See Oxalis tetraphylla Cav. for more detail. Oxalis deppei and O. tetraphylla, generally regarded as synonymous are sometimes treated as separate, but very similar species from Mexico. For convenience they are treated separately here. [RHSD, Hortus].
Horticultural & Botanical History
'A native of Mexico, introduced very lately by Mr. Barclay, through whose kindness we received it. The name has been given in honour of Mr. Deppe, a German naturalist and collector, who is now on his second expedition to New Spain, exploring its valuable productions, of which so little, comparatively, is at present known. It flowers in June, preserved in the greenhouse, and will probably increase itself by offsets, as is the case with the others of this numerous family.' [LBC no.1500/1828].
'Oxalis deppei has been cultivated in Belgium for culinary purposes. The young leaves are dressed like sorrel, in soup, or as a vegetable; they have a fresh and agreeable acid, especially in spring. The flowers are excellent in salad alone, or mixed with corn salad, endive of both kinds, red cabbage, beet root, and even with the petals of the dahlia, which are delicious when thus employed. When served at table, the flowers, with their pink corolla, green calyx, yellow stripes, and little stamens, produce a very pretty effect. The roots are taken up in September or October, and preserved through winter in a cool cellar. They are gently boiled with salt and water, after having been washed and slightly peeled; they are then eaten like asparagus, in the Flemish fashion, with melted butter and the yolk of eggs. They are also served up like scorzonera and endive, with white sauce. They form, in whatever way they are dressed, a tender, succulent dish, easy to digest, and agreeing with the most delicate stomach.' [Gard. Chron. p.68/1841]. A number of articles were published in this newspaper describing the cultivation and kitchen use of Oxalis deppei.
History at Camden Park
Listed in all published catalogues [B.370/1843]. A form with purplish-pink flowers still grows in the gardens in three distinct locations.
Notes
Published Jan 28, 2010 - 02:49 PM | Last updated Jul 29, 2010 - 01:35 PM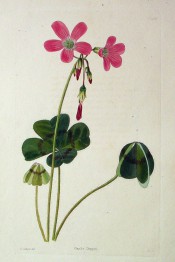 | | |
| --- | --- |
| Family | Oxalidaceae |
| Category | |
| Region of origin | Mexico |
| Synonyms | |
| Common Name | Good luck plant, Lucky clover |
| Name in the Camden Park Record | Oxalis Deppii |
| Confidence level | high |