Myrtus communis L.
Frost-hardy, upright, bushy shrub with opposite, ovate, glossy leaves, to 5cm long, and solitary, white, 5-petalled flowers, to 2cm across, with conspicuous white stamen-tufts, in summer and autumn, followed by purple-black berries. To 3m. [RHSE, Hortus, Hilliers'].
Horticultural & Botanical History
An ancient garden plant, cultivated in England since at least 1597.
There is no apology needed for drawing attention to this popular old plant, or in saying a word of praise in its favour. Myrtus communis, the most northern species of the order, is a native of Persia. It is also found naturalised in the South of Europe, and I believe is found to stand our winters out-of doors in some favoured districts on the coast of Britain.
Myrtle buds and berries were eaten as spices by the ancients, and are still used in Tuscany instead of pepper. The Tuscans also prepare a sort of wine from the Myrtle which they call Myrtidanum. The distilled water of the flowers is of very agreeable perfume, known in France under the name, Eau d'Ange. The leaves of the common Myrtle dried in a stove and powdered are sometimes substituted for the Sumac of Sicily.
The varieties most commonly met with in cultivation are the following:— Myrtus communis, with its bright green and cheerful appearance, is known to all, and a general favourite. Myrtus communis latifolia is very much like the common variety, but has larger, broader, and bolder leaves, and altogether is a more robust grower.
The following three varieties among the small-leaved section are the best, and for all practical purposes are ample to grow. Myrtus lusitanicus, the smallest leaved variety I am acquainted with, is a very pretty one, and most useful in bouquet making. Myrtus Romana is a fine variety, a little larger in the leaf than lusitanicus, of a darker green colour, and a much better grower. M. communis mucronata is very much like Romana, perhaps a trifle lighter in the foliage, and is quicker in making a tree.
The purposes for which the Myrtle may usefully be grown are many. It is grown in pots or tubs as pyramids, standards, and bushes, and I have found small plants in 4 inch pots most useful to mix with flowering plants round the edges of groups or baskets of plants for house decoration.
For growing into large plants in tubs, the variety communis latifolia is the best, and the form I prefer is the standard and pyramid, as they have a fine effect if placed alternately on the terrace or lawn. They are also well adapted for growing either as pillar plants, or to cover a piece of bare wall in a greenhouse. If used in either of the above ways, I should endeavour to plant near the pathway or door, as I have found that many people are fond of drawing their hands along the foliage for the purpose of inhaling its pleasant odour.
For cutting purposes the Myrtle is a most useful and valuable plant. In the winter I have often admired a small glass standing alone on a table or shelf with only a sprig of Myrtle, and perhaps a single bloom of scarlet Pelargonium, or, maybe, some other simple flower; and again, in the summer, what is cooler or more refreshing to look at than a bit of tuberose, or some other white flower, with a small branch of Myrtle? I think I have shown in the above few lines, that the Myrtle is a real gardener's friend in many ways, and perhaps not the least in these hard times — in that it requires little or no labour to keep it clean. Quercus.' [GC January to June p.74/1886]. Quercus is the pseudonym of the anonymous author.
Figured by Saint-Hilaire Tr. pl.108/1825.
History at Camden Park
Listed in all published catalogues [T.693/1843].
Notes
Published Jan 18, 2010 - 10:43 AM | Last updated Jan 18, 2010 - 10:49 AM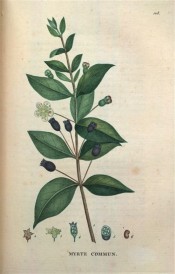 | | |
| --- | --- |
| Family | Myrtaceae |
| Category | |
| Region of origin | Iran, Mediterranean, where it is probably naturalised |
| Synonyms | |
| Common Name | Common myrtle |
| Name in the Camden Park Record | Myrtus communis - Myrtle |
| Confidence level | high |