Myrica cerifera L.
Hardy, glossy-leaved shrub or small tree with fragrant, narrow lance-shaped leaves, to 8cm long, the flowers catkins, followed by round fruit covered in blue-white wax. The wax has been made into fragrantly burning candles, hence the common names. To 12m. [RHSD, Hortus, Hilliers'].
Horticultural & Botanical History
'Myrica cerifera is distributed from southern Maryland to southern Florida, through the Gulf states to the shores of Aransas Bay in Texas, and northward in the region west of the Mississippi to the valley of the Washita River in Arkansas; it also occurs on the Bermuda and Bahama Islands, San Domingo, Cuba, Guadaloupe, and Porto Rico. On the south Atlantic and Gulf coasts Myrica cerifera grows to its largest size, and is very abundant, inhabiting sandy swamps and pond holes in company with the Red Maple, the Sweet Bay, the Black Gum, the Sweet Gum, the Titi, and other water-loving plants, and, in its arborescent form, rarely ranging more than forty or fifty miles from the sea. As a shrub sometimes only a few inches in height, it grows near the coast on sandy Pine-barren soil, and in the interior on dry sandy arid hills in northern Alabama, eastern Texas, northern Louisiana, and southern Arkansas.
The wood of Myrica cerifera is light, soft, and brittle, although close-grained; it is dark brown, with thin lighter colored sapwood, and contains numerous thin medullary rays. The specific gravity of the absolutely dry wood is 0.5637, a cubic foot weighing 35.13 pounds.
Myrica cerifera was first described in 1691 by Plukenet in the Phytographia.' [Sargent - Silva of North America vol.9, p.88, pl.459/1891].
Introduced to Britain by 1699. [JD].
History at Camden Park
Myrica cerifera is marked with a 'c' in an 1836 edition of Loddiges' catalogue held at Camden Park [CPA]. In William Macarthur's code, used and explained elsewhere, this means grown at Camden. It is almost certain that it was grown in the gardens around this time but it did not appear in the catalogues and may have been short-lived.
Notes
See also Myrica quercifolia L.
Published Apr 02, 2010 - 03:21 PM | Last updated Apr 02, 2010 - 03:28 PM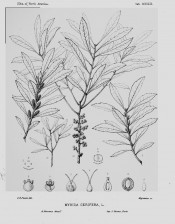 | | |
| --- | --- |
| Family | Myricaceae |
| Category | |
| Region of origin | Eastern United states, Carribean |
| Synonyms | |
| Common Name | Wax myrtle, Candle-berry myrtle |
| Name in the Camden Park Record | Myrica cerifera |
| Confidence level | high |