Muscari neglectum Guss. ex Ten.
Fully-hardy bulbous perennial with semi-erect, almost cylindrical leaves and dense racemes of blue-black flowers with white mouths in spring. To 20cm. [RHSE, Hortus].
Horticultural & Botanical History
'The Hyacinthus racemosus and botryoides are both cultivated in gardens, but the former here figured is by far the most common; racemosus and botryoides, though different words, are expressive of the same meaning, the former being derived from the Latin term racemes, the latter from the Greek one, both of which signify a bunch of grapes, the form of which the inflorescence of these plants somewhat resembles, and hence they have both been called Grape Hyacinths, but as confusion thereby arises, we have thought it better to call this species the Starch Hyacinth, the smell of the flower in the general opinion resembling that substance, and leave the name of Grape Hyacinth for the botryoides. The Hyacinthus racemosus grows wild in the corn-fields of Germany, in which it increases so fast by offsets from the root as to prove a very troublesome weed, and on this account it must be cautiously introduced into gardens. It flowers in April and May. We have found the nurserymen very apt to mistake it for the botryoides.' [BM t.122/1790].
Introduced to Britain in 1780. [JD]. Hortus Second treats Muscari racemosum and M. neglectum as separate species.
History at Camden Park
Listed in all published catalogues [B.333/1843].
Notes
Published Jan 07, 2010 - 03:53 PM | Last updated Jan 07, 2010 - 03:59 PM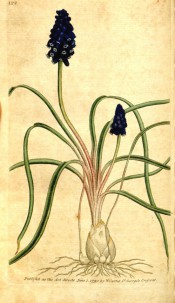 Family
Hyacinthaceae
Category
Region of origin

Europe to Asia and North Africa

Synonyms

Muscari racemosum Lam. & DC.
Hyacinthus racemosus L.

Common Name

Grape hyacinth, Starch hyacinth

Name in the Camden Park Record

Muscari racemosum

Confidence level
high