Mespilus germanica L.
Fully-hardy, spreading tree or large shrub with alternate, lance-shaped leaves, to 15cm long, and white, sometimes pink-tinged flowers, to 5cm across, in spring and summer, followed by edible, fleshy brown fruit, to 5cm or more across. To 6m. [RHSE, Hortus, Hilliers'].
Horticultural & Botanical History
Long cultivated in Britain, and naturalised in some parts, the Medlar was a very popular fruit in Victorian England. As it was also included in the Fruit list, this may have been a more ornamental variety. Johnson's Dictionary lists three varieties with differing forms, diffusa, spreading; stricta, upright; and sylvestris, probably with ornamental wood.
'The Medlar Tree. Mespilus. It grows as big as an apple tree; the leaves are a grass green; the flowers white, and the fruit when ripe of a brownish green. It is planted in gardens; flowers in May, and the fruit is ripe in November. Medlars are esteemed cooling, drying and binding (especially before they are quite ripe) and are useful in all kinds of fluxes. Some commend the hard seed as good for gravel and stone. They are an ingredient in the Syrupus Mirtinus.' [Blackwell pl.154/1737].
'There are only two sorts of Medlars cultivated in England, the Dutch and the Nottingham; both of which are too well known to require any description. The Dutch Medlar is by far the largest, and on that account may make the best appearance in the dessert; but the Nottingham is much superior in quality, and where one tree only is required it ought to be this. […] The Medlar, as well as the Quince, may very safely be planted out in the orchard, without any fear of their degenerating the fruit of either the Apple or the Pear. The idea that has been entertained by some that this would be the case is perfectly absurd, as there can be no deterioration or degeneracy of the existing fruit, through the impregnation of these or other inferior species. The effect produced through impregnation must appear in the rising generation, not in the present one: we might as well expect a degeneracy in animal species by a cross impregnation with each other, as that the Apples and Pears now growing in our orchards should have degenerated, simply because Medlars and Quinces had been planted in the same orchards. Yet I find a caution given to gardeners to "plant Medlars and Quinces at a proper distance from Apples and Pears;" both by Mr. Forsyth, and by John Abercrombie, sixty years a practical gardener.' [George Lindley – Orchard Guide p.230/1831].
History at Camden Park
Listed in all published catalogues as 'Mespilus Germanica – Medlar' [T.675/1843] and also listed in all catalogues under 'Fruit Bearing Plants' as 'Medlar'.
Notes
Published Feb 05, 2010 - 02:40 PM | Last updated Aug 03, 2010 - 05:46 PM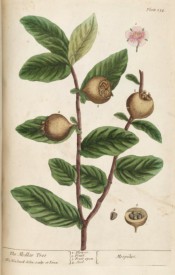 | | |
| --- | --- |
| Family | Rosaceae |
| Category | |
| Region of origin | South East Europe and Asia |
| Synonyms | |
| Common Name | Medlar |
| Name in the Camden Park Record | Mespilus Germanica - Medlar |
| Confidence level | high |