Malus domestica 'Reinette de Canada'
'Fruit, large, three inches and a half wide, and three inches deep; oblato-conical, with prominent ribs originating at the eye, and diminishing as they extend downwards towards the stalk. Skin, greenish-yellow, with a tinge of brown on the side next the sun, covered with numerous brown russety dots, and reticidations of russet. Eye, large, partially closed, with short segments, and set in a rather deep and plaited basin. Stalk, about an inch long, slender, inserted in a deep, wide, and generally smooth cavity. Flesh, yellowish-white, firm, juicy, brisk, and highly flavored. An apple of first-rate quality, either for culinary or dessert use; it is in season from November to April.' [Hogg p.167/1851].
Horticultural & Botanical History
History not known, grown more in continental Europe than Britain. Produces a large, strong and vigorous tree and an excellent bearer. Available November to April. 'An apple of excellent quality, either for culinary or dessert use.' [HP].
'This valuable variety is much better known among the French than in this country, as is obvious from there not being a single English synonym which can be ascribed to it. That of "the Portugal Apple" can scarcely be considered an exception to this remark, as it was merely a temporary local name, given because the trees to which it referred had been sent from Portugal.' [PM t.77/1829].
'A very large apple, excellent bearer, and suitable for any purpose.' [David Crichton. NHM vol.1 p60/1864].
History at Camden Park
Listed in the 1850 and 1857 catalogues [Apple no.33/1850].
Notes
'Royal Russet', which see, is sometimes called 'Reinette de Canada'.
Published Apr 16, 2010 - 11:43 AM | Last updated Jul 25, 2011 - 03:40 PM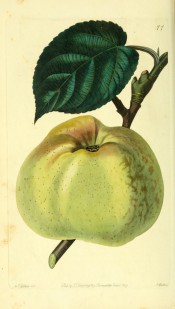 Family
Rosaceae
Category
Region of origin

Garden origin, not known, possibly Canada

Synonyms

Reinette de Canada Blanche
Gross Reinette d'Angleterre
Reinette Gross de Canada
Reinette du Caen
Canada Reinette
Canada Apple
Portugal
St Helena Russet

Common Name

Apple, Dessert apple, Culinary apple, Keeping apple

Name in the Camden Park Record

Reinette du Canada

Confidence level
high