Malus domestica 'Nonpareil'
'Fruit, medium sized; roundish, broad at the base and narrowing towards the apex. Skin, yellowish-green, covered with large patches of thin grey russet, and dotted with small brown russety dots, with occasionally a tinge of dull red, on the side next the sun. Eye, rather prominent, very slightly if at all depressed, half open, with broad segments which are reflexed at the tips. Stalk, an inch long, set in a round and pretty deep cavity which is lined with russet. Flesh, greenish, delicate, crisp, rich, and juicy, abounding in a particularly rich, vinous, and aromatic flavor.' [Hogg p.145/1851].
Fruit; medium size, roundish, broad at the base and apt to be bigger on one side. Skin; yellowish green with large patches of thin grey russet, dotted with brown russet, dull red next the sun. Flesh; greenish white, delicate, crisp, rich, vinous and aromatic flavour. [HP].
Horticultural & Botanical History
The origins of the apple are uncertain, probably originally from France. It had been in England for at least 200 years by 1866, probably since the time of Mary I or Elizabeth I.
'It is generally allowed that the Nonpareil is originally from France. Switzer says "It is no stranger in England; though it might have its original from France, yet there are trees of them about the Ashtons in Oxfordshire, of about a hundred years old, which (as they have it by tradition) was first brought out of France and planted by a Jesuit in Queen Mary or Queen Elizabeth's time." It is strange, however, that an apple of such excellence, and held in such estimation as the Nonpareil has always been, should have received so little notice from almost all the early continental pomologists. It is not mentioned in the long list of the Jardinier Francois of 1653, nor even by De Quintinye, or the Jardinier Solitaire. Schabol enumerates it, but it is not noticed by Bretonnerie. It is first described by Duhamel and subsequently by Knoop. In the Chartreux catalogue it is said "elle est forte estimee en Angleterre", but, among the writers of our own country, Switzer is the first to notice it. It is not mentioned by Rea, Worlidge or Ray, neither is it enumerated in the list of Leonard Meager. In America it is little esteemed.' [Hogg p.146/1851].
History at Camden Park
Listed in all published catalogues as 'Nonpareil (variety)' [Apple no.17/1843].
An apple was also listed as 'Old Nonpareil, apple no.61' in a hand written list of apples in an 1850 catalogue held at Camden Park [CPA]. Most of the plants hand-written in this catalogue subsequently appeared in the 1857 catalogue. That the apples did not is probably an oversight. The identity of Macarthur's 'Nonpareil (variety)' is therefore not certain. We can probably assume that it was similar to 'Nonpareil' as described here if not identical.
Notes
Published Apr 15, 2010 - 03:41 PM | Last updated Jul 25, 2011 - 04:50 PM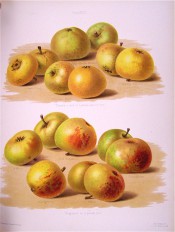 Family
Rosaceae
Category
Region of origin

Garden origin, probably originally from France

Synonyms

Old Nonpareil
Original Nonpareil
English Nonpareil
Hunt's Nonpareil
Reinette Nonpareil
Nonpareil d'Angleterre
Duc d'Arsel
Grune Reinette
Lovedon's Pippin
Pomme-poir

Common Name

Apple, Dessert apple, Keeping apple

Name in the Camden Park Record

Nonpareil (variety)

Old nonpareil

Confidence level
high