Malus domestica 'Margaret'
'Fruit below the middle size; skin greenish yellow, richly and closely streaked with deep red; flesh white, juicy, breaking, sub-acid, very rich and agreeable. Ripens early in August.' [FCM p.39/1845].
Horticultural & Botanical History
A very old English apple of uncertain origin, its age attested to by the large number of synonyms, no doubt mostly local names. Fruit; middle size, roundish ovate. Skin; greenish yellow, bright red next the sun, striped all over with dark red, strewn with russety dots. Flesh, greenish white, brisk, juicy, vinous, refreshing flavour. 'The Margaret is a first rate early dessert apple,' ripening in August, tending to become mealy if allowed to ripen on the tree. Produces a small tree suitable for pots. [HP pl.19/1878].
'This is a very old English apple. It is without doubt the Margaret of Rea, Worldige, Ray, and all our early pomologists except Miller; Mr. [George] Lindley, however, is of a different opinion, for he believes the Margaret of Miller to be identical with that of Ray. That this variety is the Margaret of Rea, his description is sufficient evidence. "The Margaret or Magdelen Apple is a fair and beautiful fruit, yellow, and thick striped with red, early ripe, of a delicate taste, sweet flavor, and best eaten off the tree." Ray gives no description of it, but it is only reasonable to suppose, that it is this variety he refers to, seeing it is the Margaret of all authors both immediately preceeding, and subsequent to him. And indeed in no instance is that of Miller noticed by any English author, but himself, anterior to Mr. Lindley.' [Hogg p.133/1851].
History at Camden Park
Listed in the 1845, 1850 and 1857 catalogues [Apple no.25/1845]. William Macarthur's records contain two references to this apple.
Red Margaret. 1843. February. Middling. Shewy red apple, drops before maturing. [Notebook no.9, MP A2948].
Red Margaret. February. Apple drops before maturity. [Diary B, 1862, MP A2951].
Notes
Published Apr 15, 2010 - 05:11 PM | Last updated Jul 25, 2011 - 04:39 PM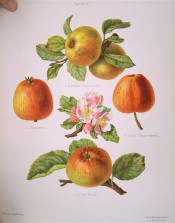 Family
Rosaceae
Category
Region of origin

Garden origin, England

Synonyms

Red Margaret
Early Red Margaret
Red Juneating
Early Red Juneating
Striped Juneating
Striped Quarrenden
Summer Traveller
Eve Apple
Eve Apple of the Irish
Maudlin
Magdelene
Marguerette
Lammas
Strawberry

Common Name

Apple, Dessert apple, Keeping apple

Name in the Camden Park Record

Red Margaret

Confidence level
high