Malus domestica 'Gogar Pippin'
Fruit; Medium size, roundish, angled and slightly flattened. Skin; pale green, thick, strewn with small russet dots, faintly mottled red next the sun. Flesh; greenish white, tender, juicy, sugary, brisk. [HP pl.LIV/1878].
Horticultural & Botanical History
It originated at Gogor near Edinburgh. A hardy and prolific tree. Available January to late May. 'A long keeping dessert apple; it is this property which gives it its chief merit.' [HP pl.LIV/1878].
'A very good middle sized variety, a good keeper and bearer.' [David Crichton. NHM vol.1 p60/1864].
History at Camden Park
Listed in the 1850 and 1857 catalogues [Apple no.46/1850].
Notes
The identity of this apple is uncertain with at least two other apples bearing the name 'Stone Pippin' as a synonym:
'Birmingham Pippin', a small dessert apple. 'This variety is supposed to be a native of Warwickshire. It is what is generally known in the nurseries, under the name of Stone Pippin, but the Gogar Pippin is also known by that name.' [Hogg p.38/1851].
'Norfolk Stone Pippin', synonyms 'Stone Pippin', 'White Stone Pippin'. A medium-sized general purpose apple. 'This is, a valuable Norfolk apple, known in the Norwich market by the name of White Pippin. The fruit, when peeled, sliced, and boiled in sugar, becomes transparent, affording for many months a most delicious sweetmeat for tarts. The tree grows to a large size, is very hardy, and in all seasons an abundant bearer. It is highly deserving of an extended cultivation.' [George Lindley – Orchard Guide p.83/1831].
Published Apr 16, 2010 - 02:35 PM | Last updated Jul 25, 2011 - 03:22 PM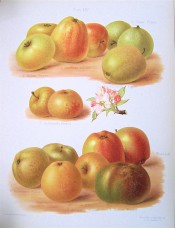 | | |
| --- | --- |
| Family | Rosaceae |
| Category | |
| Region of origin | Garden origin, Scotland |
| Synonyms | |
| Common Name | Apple, Dessert apple, Keeping apple |
| Name in the Camden Park Record | Stone Pippin |
| Confidence level | low |