Malus domestica 'Femme de Neige'
'A Canadian apple of great beauty; in size medium; skin light green, stained with bright red; flesh white, very tender' juice saccharine, with a musky perfume: ripe in October, and will keep good until Christmas. Tree hardy and productive.' [FCM p.41/1845].
Horticultural & Botanical History
The origin of this apple is unclear but the following explanation from Apples of New York is fascinating and well worth repeating. 'Waugh gives the following historical account of the Fameuse. "The history of Fameuse is obscure, probably beyond clearing up satisfactorily, but extremely interesting as far as we know or can guess at it. The turning point of speculation for years has been as to whether the variety is of American or European origin. One of the most interesting contributions to this discussion was made by Mr. Chauncey Goodrich, of Burlington, Vt, in 1851." We quote the following extracts from this article:
"It is here one of the most common as well as oldest varieties; hundreds of barrels are sold in a single season in this town alone .... All American writers call it a Canadian apple; of this I think there is no proof. One hundred and twenty years since, the French planted this variety on the eastern shore of Lake Champlain, opposite Fort Frederick on Crown Point, at a place called Chimney Point - more than fifty years before any other permanent settlement. From these old trees cions [sic] have been scattered through Vermont, and called the Chimney apple. A very intelligent and highly educated French seigneur residing on an old seignory eighty miles below Quebec informed me that this was one of the first varieties of apples planted on the place; that the trees were very old and were brought from France. The early French settlers planted the same variety at Ogdensburg, Detroit, and other places on Lakes Erie and Ontario, where it is still known as the Snow Apple; also at Kaskaskia, Illinois, more than one hundred and fifty years since, where the old trees are still productive, and apples from them are sent to St. Louis, &c. The same apple may be found in France, and in London of the growth of France.
It is hardly to be supposed that a seedling apple was produced in Canada at so early a day as to be distributed more than a thousand miles in every settlement made by the French, one hundred and fifty years since. Another fact tending to suggest a European origin for Fameuse is that it is usually found in the old gardens, in company with well known European varieties of pears, apples and other fruits.
On the other hand the testimony of European pomologists is mostly against the theory of a European origin. The variety is known in the larger collections of all the countries of Europe, just as Ben Davis is, and has been known there for many years. But most European authors unhesitatingly assign a Canadian origin to the variety; and the variety seems too little known, too little appreciated, and too little at home with European surroundings for us to believe it originated there. Those who call it a European apple usually assign its nativity to France; but Leroy the greatest of all French, and perhaps of all European authorities, did not know the variety. He says that Le Lectier cultivated the Pomme de Neige (synonym of Fameuse) at Orleans (France) before 1628; but Leroy did not know whether or not this was the same Pomme de Neige grown in Canada. In fact he says, 'I have never, up to the present time, met this apple Pomme de Neige on our soil. In place of it they have always sent me Calvill de Neige, ripening from January to March.' Most of the so-called Snow apples of Europe, in fact, are white skinned and totally different from the Snow, or Fameuse, of America.
It is agreed that, whether the Fameuse came from Europe or not, it was distributed by the earliest of the French missionaries and planted by the first settlers. Quebec was founded shortly before 1600 and Montreal in 1641. The seigniory du Cote de Beaupre, said to be the oldest seignory in Quebec, was granted in 1636 and promptly colonized. Thus we have almost a hundred years of French settlement and missionary activity prior to 1700, the approximate date at which, according to Mr. Goodrich, the Fameuse was brought to Vermont. This seems to allow ample time for a Canadian origin for the variety and for its wide distribution in Quebec, Ontario and the Northern states.
The early distribution of apples, either from Europe to Canada, or from place to place on this continent, was accomplished chiefly, almost exclusively, by seeds. Some of the missionaries knew the art of grafting, but there was small encouragement to practice it. From these considerations, and others which cannot be fully argued here, the writer is firmly convinced that the Fameuse originated in Canada from seed brought from France." ' [Apples of New York vol.1, p.66].
History at Camden Park
Listed in the 1850 and 1857 catalogues [Apple no.34/1850].
Notes
Published Apr 16, 2010 - 11:50 AM | Last updated Jul 25, 2011 - 03:39 PM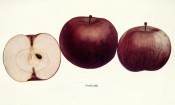 Family
Rosaceae
Category
Region of origin

Garden origin, Canada

Synonyms

De Neige
Fameuse
Pomme Fameuse
Pomme de Neige
Chimney Apple
Sanguineus
Snow

Common Name

Apple, Dessert apple, Keeping apple

Name in the Camden Park Record

Femme de Neige

Confidence level
high