Malus domestica 'Court-Pendû Plat'
'An estimable dessert apple, of medium size; in shape round, depressed; the colour yellow, a good deal covered with full red; it is of a high sacharrine flavour and of close consistence; the fruit keeps well till February or March. The tree grows upright, and bears well.' [FCM p.43/1845].
Horticultural & Botanical History
An old apple probably originating in France. Perhaps not surprisingly a number of apples have been confused with this name. 'This is not the Capendu of Duhamel, as quoted by Lindley and Downing; neither is it the Court-pendu of Forsyth and De Quintinye, that variety being the Fenouillet Rouge of Duhamel, see No. 123. The Courpendu of Miller is also a different apple from any of those just mentioned, and is distinguished by having a long and slender stalk, "so that the fruit is always hanging downwards." The name of this variety is derived from Corps pendu translated by some Hanging Body, whereas that of the variety above described, is from Court pendu, signifying suspended short, the stalk being so short, that the fruit, sits, as it were, upon the branch. The name Capendu or Capendua, is mentioned by the earliest authors, but applied to different varieties of apples. It is met with in Ruellius, Tragus, Curtius, and Dalechamp, the latter considering it the Cestiana of Pliny. Curtius applies the name to a yellow apple, and so also does Ruellius.' [Hogg p.64/1851]. HP pl.XLIX/1878.
Described and figured in the Pomological Magazine [PM t.66/1829].
History at Camden Park
Listed as 'Court-Pendû Plat, apple no.62' in a hand written list of apples in an 1850 catalogue held at Camden Park [CPA]. Most of the plants hand-written in this catalogue subsequently appeared in the 1857 catalogue. That the apples did not is probably an oversight.
Notes
Published Apr 17, 2010 - 03:28 PM | Last updated Jul 24, 2011 - 04:38 PM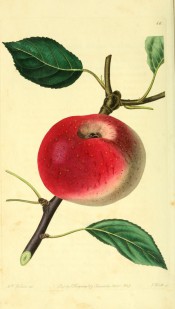 Family
Rosaceae
Category
Region of origin

Garden origin, probably France

Synonyms

Court-Pendû
Court-Pendû Rouge
Garnon's Apple
Princess Noble
and many others

Common Name

Apple, Dessert apple, Cider apple

Name in the Camden Park Record

Court-Pendû Plat

Confidence level
high