Malus domestica 'Court of Wick Pippin'
Fruit; below medium size, roundish oval, regular and handsome. Skin; fine clear yellow, faintly streaked with bright orange, covered with russety freckles. Flesh; yellow, tender, crisp, very juicy, brisk, rich and highly flavoured. [HP pl.III/1878].
Horticultural & Botanical History
'This Apple is held in much esteem by the amateurs of fruit generally, and is spoken of in terms of very high commendation by Mr. Billingsley, in his "Survey of Somersetshire", in which county it is said to have been recently raised, at the place from whence the name is derived, from a seed of the Golden Pippin, which variety it somewhat resembles both in form and colour; though it is usually larger.' [PL pl.32/1818].
Described and figured in the Pomological Magazine. 'A Somersetshire Apple of the highest merit. It was originally raised in a village in that county, from the seed of the Golden Pippin, to which it is little inferior either as a cider or table fruit. The tree is very healthy and vigorous, and a great bearer.' [PM t.32/1828].
'It is one of the best and most valuable dessert apples.' Ripening in October to November it will keep until March or April. [Gard. Chron. 1846].
History at Camden Park
Listed in 1845, 1850 and 1857 catalogues [Apple no.32/1845]. Incorrectly called Country Wyke Pippin in the 1845 catalogue.
Notes
Published Apr 16, 2010 - 11:37 AM | Last updated Jul 25, 2011 - 03:41 PM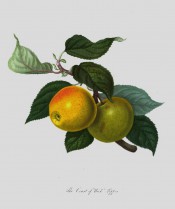 Family
Rosaceae
Category
Region of origin

Garden origin, England

Synonyms

Fry's Pippin
Golden Drop
Knightwick Pippin
Phillip's Reinette
Wood's Huntingdon
Week's Pippin
Yellow Pippin

Common Name

Apple, Dessert apple, Keeping apple

Name in the Camden Park Record

Court of Wick Pippin

Confidence level
high