Justicia carthaginensis Jacq.
Frost tender evergreen shrub with purple flowers. To 50cm. 'A native of the West Indies, whence it was introduced into this country a few years since. The blossoms are very beautiful, and of a colour not to be imitated in brightness: they come out with us in the beginning of winter, which of course renders them the more welcome. It is necessary to preserve it in the stove at all times: it increases freely by cuttings, which should be potted in loam, and in smallish pots, as it is not a very large plant.' [LBC no.724/1823]
Horticultural & Botanical History
First botanically described by Jacquin in 1760 [Jacquin ESP p.11/1760]. Described as Justicia retusa by Vahl in 1805 [Enumerato Plantarum – Vahl vol.1, p.136/1805].
'Native of the Caribbee Islands; and introduced by Sir Joseph Banks in 1792.
According to Vahl, the species has an herbaceous stem: opposite branches, round at the lower part and smooth at the upper, obtusely four-cornered, and slightly villous. Leaves petioled, from two to three inches long, ovate, tapered to a point at the base, pointed, tender, nerved, nearly without apparent veins, with a few scattered hairs which are thicker on the midrib and nerves. Spikes terminating the branches, generally single, sometimes double, two inches long. Outer bractes scarcely a nail long; inner ones shorter, placed at the bottom of the calyx, cuneate, obtuse. Stigma obtuse. It is said to vary with ovately oblong and elliptically ovate; with the outer bractes roundish oblong or more truly oblong. The lower anther is membranously awned at the base.' [BR f.797/1824].
History at Camden Park
Listed in the 1850 and 1857 catalogues [T.610/1850]. Obtained from Loddiges' Nursery, brought out from England by Captain P. P. King. [ML A1980-3].
Notes
Published Mar 27, 2009 - 04:43 PM | Last updated Apr 27, 2011 - 05:33 PM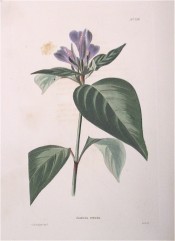 Family
Acanthaceae
Category
Region of origin

West Indies

Synonyms

Justicia sanctae-martae Lindau
Justicia retusa Vahl
Ecbolium retusum (Vahl) Kuntze
Dicliptera retusa (Vahl) Juss.
Amphiscopa retusa (Vahl) Nees
Ecbolium carthaginense (Jacq.) Kuntze
Adhatoda carthagenensis (Jacq.) Nees

Common Name
Name in the Camden Park Record

Justicia retusa

Confidence level
high