Justicia carnea Lindl.
Frost tender, erect, sparsely-branched, evergreen shrub with oblong leaves, to 25cm long, and dense, terminal and axillary spikes, to 15cm long, of tubular, 2-lipped, pinkish flowers, to 5cm long, in summer and autumn. To 2m. [RHSE].
Horticultural & Botanical History
First botanically described by John Lindley in 1831. 'A native of Rio Janeiro, whence a living plant was sent, in 1827, to the Horticultural Society, by the Right Honourable Robert Gordon. It requires a stove, where it flowers beautifully in August and September. It demands no particular treatment, and is readily increased by cuttings. This is one of the handsomest stove plants we are acquainted with, combining great beauty of foliage with very striking flowers and a constant disposition to produce them.' [BR f.1397/1831].
'This very beautiful and most desirable inmate of the stove is a native of Rio Janeiro, and was first described by Dr. Lindley from plants introduced by the Rt. Hon. Robert Gordon. We have imported it from the same country at the Glasgow Botanic Garden, where the plant, from which our figure was taken, appeared ithe autumn of 1834, and we have since received more splendid specimens from Mr. N. Don's garden at Knyppersley, near Congleton Shropshire.' [BM t.3383/1835].
Introduced to Britain in 1827. [JD].
Placed in Jacobinia as Jacobinia carnea by Nicholson in 1885 and sometimes known under this name.
History at Camden Park
Listed in the 1850 and 1857 catalogues [T.607/1850]. Justicia carnea, J. salicena 'and any other very shewy' kinds were requested of Loddiges' on 1st February, 1849 [A2933-1, p.185] and both were obtained from this source, brought out from England by Captain P. P. King. [ML A1980-3]. It was also included among desiderata in a letter to John Lindley dated 15th February 1848 [A2933-1, p.157] and to Sir William Hooker, 11th February 1848 [MP A2933-1, p.165] but was not marked 'arrived' on Macarthur's copies. It was requested of Kew again on 1st February, 1849 [MP A2933-1, p.177].
Notes
Justicia carnea Hook. Ex Nees (1847) = Pachystachys coccinea (Aubl.) Nees which see.
Published Feb 22, 2010 - 11:55 AM | Last updated Apr 21, 2011 - 03:27 PM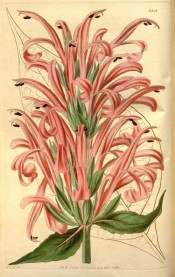 Family
Acanthaceae
Category
Region of origin

South America

Synonyms

Jacobinia carnea (Lindl.) G.Nicholson
Jacobinia pohliana Benth. & Hook.f.
Jacobinia velutina (Nees) Voss
Jacobinia magnifica (Nees) Voss
Cyrtanthera pohliana Nees
Cyrtanthera magnifica Nees

Common Name

Brazilian plume, Flamingo plant, King?s crown

Name in the Camden Park Record

Justicia carnea

Confidence level
high