Justicia adhatoda L.
Frost tender, usually erect and sparsely branched, evergreen shrub, spreading with age, with elliptic leaves, to 20cm long, and terminal or axillary spikes of tubular-bell-shaped, 2-lipped white flowers, veined red-purple, to 3cm long, mainly in summer. To 3m. [RHSE].
Horticultural & Botanical History
First botanically described as Justicia adhatoda by Linnaeus in 1753 [Sp.Pl. vol.1, p.14/1753], redefined as Adhatoda vasica by Nees in 1831 [Wallich vol.3, p.103/1831]. The latter name is used, particularly in Asia, but Justicia adhatoda L. is still an accepted name and is preferred here.
'The specimen from which our drawing was taken was sent us by Dr. Prattinton, of Bewdley, in Worcestershire, from the conservatory of Samuel Skey, Esq. of Spring-Grove, in March last. We are informed in the Hortus Kewensis, that it was cultivated by the Duchess of Marlborough, in 1699, and is by no means uncommon in our curious collections; but is rather shy of flowering. Mr. Skey's tree, which is from twelve to fourteen feet in height, has been in his possession upwards of fifteen years, and has occasionally produced blossoms before, but never in such profusion as this year.
Professor Willdenow has followed Vahl's division of this large genus, according to which this species comes in the sixth section, containing such as have a simple calyx, a ringent corolla, and one anther; but it ought to have been noticed, that under the monantherae, Vahl included all such as have their anthers parallel instead of being placed one above the other. It is in this way only that this plant, which has two distinct anthers, belongs to the above section.
It is a native of the Island of Ceylon in the East-Indies, and must be considered as rather a tender greenhouse plant; may be propagated by cuttings.' [BM t.861/1805].
This is an economically important shrub in India and elsewhere and widely cultivated. The following notes provide a synopsis of the several uses to which its products have been tradionally put and a premodern perspective on potential uses.
'A sub-herbaceous bush, found throughout the warmer tracts of India up to altitudes of 4,000 feet, and usually very abundant on the Sub-Himalayan tracts but much less common in Western and Southern than in Eastern India. Gregarious and found in large patches, but where it does not grow as a weed it is often semi-cultivated in hedgerows, and under these latter circumstances often attains the proportions of a large bush.
Hooper (Handbook Imp. Inst., 1897, ser. No. 10) incorporates all the information available up to that date and should be consulted. Subsequent investigation has mainly consisted in careful therapeutic tests, with the object of ascertaining the medicinal value of the plant. The results of the inquiries will be found in the Report of the Indigenous Drugs Committee of India (i., 38, 68, 183, 385-418, 497). It may be observed here that the verdicts of recent trials in Indian hospitals may be said to confirm belief in the plant as affording relief in chronic bronchitis and asthma, but to preclude acceptance of its reputed virtue in cases of phthisis [pulmonary tuberculosis]. The medicinal properties of this plant are mentioned in The Bower Manuscript, recently translated by Dr. Hoernle. It is there called vrisha (85, etc.).
The leaves are sometimes boiled with the sawdust of jack-wood to make a yellow dye. They seem to be most frequently employed, however, as or with manure, being either put on to the fields just before the rains and ploughed in, or scattered over rice-fields recently flooded. It does not seem established whether this agricultural utilisation is as a preventive against noxious insects (see below), or in recognition of the quantity of potash which they contain. At all events it is one of the principal plants employed in India for the preparation of pearl-ash. It appears also to be used not infrequently for gunpowder charcoal, and in Bengal the wood is turned into beads. In the Naga hills the stems are used in a kind of augury.
Considerable difference of opinion prevails regarding the use of Adhatoda as an insecticide and antiseptic. In The Journal of the Pharmaceutical Society (April 7, 1888), Hooper announced that he had discovered the active principle of the plant to be an alkaloid, which he called vasicine, but seven years later Prof. Giacosa of Turin (at the instance of Sir Lauder Brunton) threw some doubt on this discovery, by stating that though he had found the leaves rich in potassium nitrate (and therefore a valuable green manure), he had found no alkaloid. In 1897, however, Hooper's discovery was fully confirmed by Dr. W. G. Boorsma of Java, who added interesting suggestions as to the use of vasicine both as a drug and as an insecticide. Although the insecticide property would thus seem established, it has been found by practical experiment that vasicine cannot be used, as at present available. A tartrate is in the market, but cheaper and equally efficacious insecticides already exist. The use of the leaves, both as a green manure and as a poison to pests, especially on inundated ground (originally pointed out by me in 1887), might with advantage be further investigated and recommended to cultivators in localities where the plant abounds.' [Watt – The Commercial Products of India p.25/1908].
There is still considerable interest in the pharmacological activity of the several alkaloids contained in its leaves.
History at Camden Park
Listed in the 1850 and 1857 catalogues [T.605/1850]. A number of fine, mature specimens grow in the gardens. In the climate of Camden they are not shy of flowering. A very tough plant in the gardens. During drought the leaves wilt markedly but recover rapidly when it rains.
Notes
Justicia adhatoda Mart. ex Nees (1847) = Ecbolium linneanum Kurz
Published Feb 22, 2010 - 11:38 AM | Last updated Apr 27, 2011 - 04:19 PM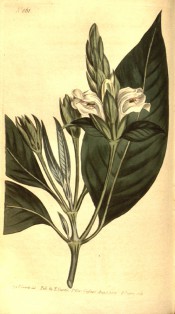 Family
Acanthaceae
Category
Region of origin

India, Sri Lanka

Synonyms

Justicia adhatoda L.
Adhatoda duvernoia C.B.Clarke
Duvernoia adhatodoides E.May & Nees

Common Name

Malabar Nut

Name in the Camden Park Record

Justicia adhotoda

Confidence level
high