Ixora chinensis Lam.
Frost-tender, bushy, rounded shrub with oblong, pointed leaves, to 6cm long, and dense, flattened, corymb-like cymes, to 10cm across, of red, orange, pink or white flowers, in summer. To 2m by 2m. [RHSE, Hortus]. Often confused with Ixora L. var. bandhuca (Roxb.) Corner which see.
Horticultural & Botanical History
'[Ixora crocata was] Introduced by Mr. Colvile from China, and [said] to have flowered this autumn (for the first time) in the hothouse of the Chelsea Nursery, under the skilful superintendance of Mr. Sweet; who thinks it distinct from the well-known Ixora coccinea (Curtis's Magaz. 169; Ixora Stricta of the Flora Indica, chinensis of Lamarck, and flammea of Salisbury and Smith in Rees's Cyclopedia; but certainly not coccinea of Linnaeus, which is grandiflora (fol. 154 of the present work), by a firmer thicker leathery paler green leaf, by segments to the corolla which are not round, as well as by general habit, and an orange-red inflorescence. We have had no opportunity of comparing our plant with the one to which it comes so near, but have relied entirely upon the judgment of Mr. Sweet in respect to the propriety of separating the two. We are not sure that our plant is not the true chinensis of Lamarck; which may, after all, be distinct from the coccinea of Curtis's Magazine and the Hortus Kewensis, of which it has been perhaps with too uncritical an investigation made the synonym.' [BR f.782/1824].
'Flowers copiously even in a small state. Like the other species, it is an ornamental and shewy plant.' [LBC no.965/1824]. Introduced to Britain in 1822. [JD].
History at Camden Park
Listed in the 1850 and 1857 catalogues [T.583/1850]. Obtained from the London Horticultural Society. Included among desiderata in a letter to John Lindley dated 15th February 1848, Macarthur's copy endorsed 'arrived' [MP A2933-1, p.157]. It was also requested of Loddiges' nursery on 13th February, 1848 [MP A2933-1, p.172].
Notes
See also Ixora coccinea L.
Published Feb 08, 2010 - 11:44 AM | Last updated Feb 08, 2010 - 11:50 AM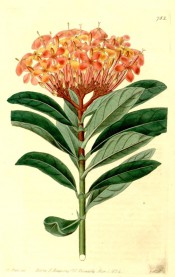 | | |
| --- | --- |
| Family | Rubiaceae |
| Category | |
| Region of origin | China |
| Synonyms | |
| Common Name | Flame of the woods, Jungle flame, Jungle geranium |
| Name in the Camden Park Record | Ixora crocata |
| Confidence level | high |