Ipomoea hederacea Jacq.
Ipomoea caerulea splendens is probably a form of Ipomoea caerulea Roxb. ex Ker-Gawl., a synonym of Pharbitis hederacea. Annual climber with cordate, 3-lobed leaves and blue or pale purple flowers. [RHSD. Hortus]. See also Pharbitis hederacea (Jacq.) Choisy var. dillenii .
Horticultural & Botanical History
The present plant [Ipomoea caerulea] will be seen at once to be very closely allied to the Convolvulus Nil of Linnaeus, excellently figured in the 188th plate of Curtis's Botanical Magazine. The principal mark which appears to distinguish it, is that here the segments of the corolla are circular and very shallow, while in Nil they are deep and tapered into a point; the colour is likewise much paler in our plant and the foliage more deeply divided. Slight as these may appear, they have been found by Dr. Roxburgh, after a continued cultivation of the two in the Botanic Garden at Calcutta, to be constant, and one plant has never been perceived to make the least advance toward the other by any variation in these repects; so that we have not hesitated to keep the two distinct, after the example of Dr. Roxburgh. Native of the East Indies, where however it is said to be a rare plant, growing principally in hedges and on old walls.' [BR f.276/1818].
History at Camden Park
Seed order to Hurst and McMullen, Seedsmen and Florists of London, on 8th April 1846. [MP A2933-1, p.132].
Notes
Published Oct 05, 2009 - 02:36 PM | Last updated Jul 16, 2010 - 03:34 PM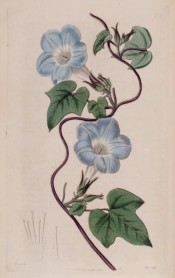 Family
Convolvulaceae
Category
Region of origin

Tropical Regions

Synonyms

Pharbitis hederacea (Jacq.) Choisy
Ipomoea hederacea Jacq.
Convolvulus nil L.

Common Name

Ivy Leaved Morning Glory

Name in the Camden Park Record

Ipomoea caerulea splendens

Confidence level
medium