Grevillea banksii R.Br. var. fosteri
A variable species with many garden forms. It forms a half hardy, large, open, strongly branched shrub or small tree, sometimes prostrate, with deeply pinnatifid leaves, hairy beneath, and cylindrical racemes, to 18cm long, of red, pink, or creamy white flowers in winter and spring. To 10m. [RHSE, Hortus]. The form grown by Macarthur was probably fosteri. This is a silvery-leaved shrub that flowers continuously with a spring peak. Both red and white flower forms are known. To 3m. [Olde & Marriot]. See also History at Camden Park.
Horticultural & Botanical History
'In its robust shrubby habit, and stout raceme of large flowers, this forms a strange contrast to the delicate looking and feathery-foliaged G. Preissii figured in the early part of this volume (Tab. 5837), and is one of many instances of the remarkable differences in habit displayed by various members of many of the large Australian genera. It forms a tall shrub or slender tree, of fifteen to twenty feet in height, and when covered with its scarlet blossoms, must present a magnificent appearance in the Australian bush. [..] Grevillea banksii is a native of barren hills in the Queensland colony, where it was discovered by Brown during Flinders' voyage, and has since then been found by various collectors.' [BM t.5870/1870].
History at Camden Park
Listed in the 1850 and 1857 catalogues [T.528/1850]. Presumably collected by John Bidwill but I have found no specific reference to Grevillea banksii. The tree form is widespread in south-eastern Queensland between Maryborough and Bundaberg. But perhaps the most likely identification is the variety fosteri. 'This widely cultivated variety has no known wild origin, although it was almost certainly introduced to cultivation by Charles Moore in 1853 after a visit to Qld where he met Bidwill from Wide Bay.' [Olde & Marriot v.2, p.49]. This is not quite correct, Moore visited Wide Bay after Bidwill's death to carry out an inventory of his plant collection. If the identification is correct it seems that Macarthur introduced fosteri into cultivation before Moore. 'The name first appeared as G. fosteri in 1855-56 as a manuscript name, in the report of the Botanic Gardens, Sydney, in a list of plants sent to D. Moore, Royal Botanic Gardens, Dublin, and to Veitch's Nursery, Kings Road, London, but it was not formally published until 1874. [Olde & Marriot v.2, p.49].
Notes
Published Mar 21, 2010 - 01:35 PM | Last updated Mar 21, 2010 - 01:47 PM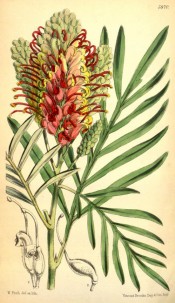 | | |
| --- | --- |
| Family | Proteaceae |
| Category | |
| Region of origin | Australia, Queensland, on the coast and surrounding islands |
| Synonyms | Grevillea fosteri T.Moore |
| Common Name | Red flowered silky oak |
| Name in the Camden Park Record | Grevillea sp. (from Wide Bay) |
| Confidence level | medium |