Ginkgo biloba L.
Fully-hardy, columnar, then wide-spreading dioecious, deciduous tree with flat, fan-shaped leaves, to 12cm across, turning yellow in autumn, catkin-like male flowers, and solitary female flowers, followed by plum-like, yellow-green fruit, to 3cm long, in autumn. To 30m. [RHSE, Hortus, Hilliers'].
Horticultural & Botanical History
Introduced to Britain in 1754 [JD], a date 50 years earlier than that given by Dallymore and Jackson below. 'It is doubtful if Ginkgo exists anywhere in a wild state, although it has been recently found growing spontaneously over some ten square miles near Changhua Hsien in the Chekiang province in China, where the trees are stated to be so common that they are cut for firewood. In China, Manchuria, and Corea it is commonly planted, especially in the grounds of Buddhist temples, where magnificent specimens, some of them reputed to be over 1,000 years old (and probably preserved by Buddhist priests) are met with. Its introduction to Japan is thought to have been brought about by Buddhist priests, and magnificent examples are found in the precincts of temples and palaces. One seen by Wilson at Tokyo in 1914 was 82 ft. high and 28 ft. in girth. A male tree which he saw near the Min River above Kiating, W. China, in 1908, was 100 ft. high with a trunk 24 ft. in girth, and branches sweeping the ground.
The maidenhair tree was first made known to Western botanists by Kaempfer, a surgeon in the employ of the Dutch East India Company, who discovered it in 1690 and published in 1712 a description, with a good figure, of the foliage and fruit. The tree was introduced into Europe in 1730, being first planted in the Botanic Garden at Utrecht. It was introduced into England in 1795. Most of the earlier trees raised, both on the Continent and in Britain, appear to have been males, and the first recorded female tree was one found by De Candolle near Geneva in 1814. Scions from that tree were grafted upon a male tree in the Botanic Garden at Montpellier, where the first perfect seed is reputed to have been produced in Europe in 1835. So far as is known "fruits" (seeds) were not produced in England before 1919, when a grafted branch raised from a scion obtained from Montpellier Botanic Garden in 1911 produced five fruits on the large male tree at Kew. In 1922 a female tree at Bath produced a good crop of fruit.' [A Handbook of Coniferae including Ginkgoaceae. Dallimore & Jackson. p.543/1923].
History at Camden Park
Listed in all published catalogues [C.78/1843]. Mature specimens of male and female trees survive in the Old Orchard, now the property of the Elizabeth Macarthur Agricultural Institute.
Notes
Published Jan 25, 2009 - 04:42 PM | Last updated Jul 21, 2010 - 05:31 PM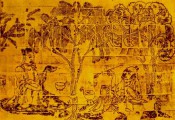 | | |
| --- | --- |
| Family | Ginkgoaceae |
| Category | |
| Region of origin | China |
| Synonyms | Salisburia adiantifolia Sm. |
| Common Name | Maidenhair tree |
| Name in the Camden Park Record | Salisburia adiantifolia |
| Confidence level | high |