Encyclia cochleata (L.) Leme
A variable species with pseudobulbs to 25cm, slightly compressed, 3-leaved, each leaf to 40cm long, and erect inflorescences to 50cm, bearing few to many yellow-green to lime green flowers, marked purple near the base, with a deep purple lip, white at the base with deep purple veins, opening in succession over many seasons. [RHSD, Hortus].
Horticultural & Botanical History
'Plants which draw their support from other living ones, of which there are numerous instances, are by Botanists termed parasitical, and of this kind are most of the present family; deriving their generic name, which is of Greek extraction, from growing on trees, into the bark of which they fix their roots; some of them are also found to grow on dead wood, as the present plant, which is described by Sir Hans Sloane, in his history of Jamaica, V. I. 250. t.121. f.2. as not only growing plentifully on trees, but also on the palisadoes of St. Jago de la Vega.
Instances of these plants flowering in England are very rare; Commodore Gardner, in the year 1789, presented to the Apothecaries company some roots of this plant, taken up in the woods of Jamaica with great care, and which being successfully treated by Mr. Fairbairn in their garden at Chelsea, one of them threw up a flowering stem last February, from whence our drawing was made.' [BM t.152/1791]. 'Of this very numerous genus, the Epidendrum cochleatum was the first that was seen to flower in this country. It is now not very uncommon, considering the difficulty attending the culture of plants naturally parasitical.' [BM t.572/1802].
'A native of the West Indies, introduced in late 1786 by our late worthy friend, Dr. Anderson, of St. Vincent. […] The flowers are produced in succession, and are so lasting, that we believe, for several years past, there has not been a time when we have not had some in bloom.' [LBC no.22/1817]. ABR pl.13/c.1799.
History at Camden Park
Listed in the 1850 and 1857 catalogues [O.32/1850].
Notes
Published Jan 26, 2010 - 01:47 PM | Last updated Jan 26, 2010 - 01:55 PM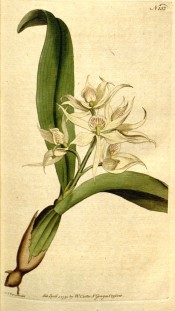 Family
Orchidaceae
Category
Region of origin

Central and South America

Synonyms

Epidendrum cochleatum L.
Prosthechea cochleata (L.) W.E.Higgins

Common Name

Cockle orchid, Clamshell orchid

Name in the Camden Park Record

Epidendrum cochleatum

Confidence level
high