Mandevilla splendens (Hook.) Woodson
Tender, tuberous rooted herbaceous climber with broad leaves and white flowers, suffused with pink. There are a number of garden forms with more brightly coloured flowers. [RHSD, Hortus].
Horticultural & Botanical History
'Of the many handsome species of this Genus which the late researches of Botanists and Travellers in Brazil have made known to us, this is unquestionably the most beautiful, and may vie with the choisest productions of Flora which have been of late years introduced to our gardens. It was sent from the Organ Mountains to Messrs. Veitch of the Mount Radford Nursery, Exeter, last year (1841), by their zealous collector Mr. Lobb; and already has produced such copious and richly coloured blossoms, as have gratified every one who has seen them.' [BM t.3976/1842 as Echites splendens].
History at Camden Park
It may have been obtained from the London Horticultural Society or Kew Gardens. It was included among desiderata in a letter to John Lindley dated 10th July 1848 and to Kew at about the same time but was not marked 'arrived'. It was requested again of Kew on 1st February, 1849 [MP A2933-1, p.177] and of Lindley again on the same date [MP A2933-1, p.182a]. There is no direct evidence that this plant was grown.
Notes
Published Jan 16, 2009 - 11:58 AM | Last updated Oct 28, 2011 - 11:40 AM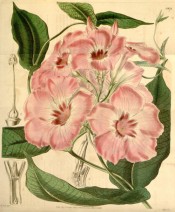 Family
Apocynaceae
Category
Region of origin

South America

Synonyms

Echites splendens Hook.
Dipladenia splendens A.DC.

Common Name
Name in the Camden Park Record

Dipladenia splendens

Confidence level
high