Cydonia oblonga Mill.
Small deciduous tree with broadly ovate leaves, often turning yellow before falling, and solitary white or pink flowers followed by large, edible, down-covered, pear-shaped yellow fruit, to 15cm or more long. To 6m or more. [RHSD, Hortus, Hilliers'].
Horticultural & Botanical History
Cultivated for its fruit since ancient times, its true region of origin now obscure. Introduced to Britain by 1573. [JD].
'Mr. Miller has three varieties of the Quince, the only hardy kinds known in this country, viz.
1. Cydonia oblonga. Pear-shaped Quince. Leaves oblong-ovate. Fruit lengthened at the base.
2. Cydonia maliformis. Apple-shaped Quince. Leaves ovate. Fruit rounder than that of the last.
3. Cydonia lusitanica. Portugal Quince. Leaves obovate. Fruit oblong.' [George Lindley – Orchard Guide p.476/1831].
'Quinces. Cydonia, or Mala cotonea majora. This tree seldom grows so big as the apple tree, having usually a crooked body with many weak branches. The leaves are like those of the apple tree, but rounder and whitish underneath: the blossoms are a whitish purple, and the fruit a yellow-green, covered with a down. It is commonly planted by ponds and moats, flowering in May, the fruit being ripe in September and October. The fruit is accounted cordial and strengthening to the stomach, helping digestion and stopping vomiting & the hiccough. They are also esteemed good for all sorts of fluxes. The seed is balsamic and mollifying, tempering the acrimony of humors & serviceable against sore mouths, throats and the thrush; for which a mucilage made of them is frequently prescribed. Outwardly it is applied to heal sore chop'd [sic] nipples.' [Blackwell pl.137/1737].
History at Camden Park
Listed in all catalogues as 'Quince' under 'Plants Bearing Fruit'. Pyrus cydonia is marked with a 'c' in an 1836 edition of Loddiges' catalogue held at Camden Park [CPA]. In William Macarthur's code, used and explained elsewhere, this means grown at Camden. It was certainly grown in the gardens around this time and probably grown for decades longer, both for its intrinsic value as a fruit and its use as root-stock for grafting pears.
Notes
Published Feb 06, 2010 - 04:42 PM | Last updated Jul 30, 2010 - 05:17 PM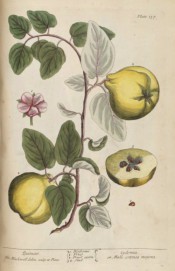 Family
Rosaceae
Category
Region of origin

Probably north Iran to Turkestan

Synonyms

Pyrus cydonia L.
Cydonia vulgaris Pers.
Pyrus oblonga Hort. ex Steud.

Common Name

Common Quince

Name in the Camden Park Record

Pyrus cydonia

Confidence level
high