Corylus avellana 'Cosford'
A cultivar of Corylus avellana L. 'Husk hairy, as long as the nut, and deeply cut. Nut large, oblong. Shell of a light brown colour, very thin, so much so as to be easily broken between the finger and thumb. Kernel large, and well flavoured. An excellent early nut, and the tree is an abundant bearer.' [Hogg – Fruit Manual p.131/1860].
Horticultural & Botanical History
'The first notice we find of this variety is in the volume of the Transactions of the Horticultural Society [c.1806] above referred to; where it is described as having been received from Mr. Kirke, of Brompton, who still cultivates it, and from whom the plants in the Garden of the Horticultural Society were obtained, which afforded the materials of the present drawing. It was exhibited in the course of this season at one of the meetings of the Ipswich Horticultural Society; and as there is a Hundred in Suffolk of the name of Cosford, it is not improbable that the variety originated in that part of the country.
It highly deserves cultivation, being a great bearer, and having a remarkably thin shell; both of which qualities entitle it to attention. The Tree grows vigorously, and the branches upright.' [PM t.55/1829].
History at Camden Park
Listed only as an Addendum to the 1857 catalogue as Cosford.
Notes
Published Apr 25, 2010 - 04:49 PM | Last updated Jul 23, 2011 - 02:43 PM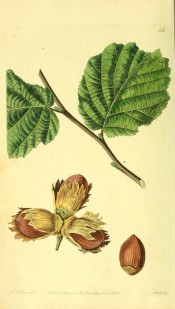 Family
Betulaceae
Category
Region of origin

Garden origin, England

Synonyms

Miss Young's
Thin Shelled

Common Name

Hazel Nut

Name in the Camden Park Record

Cosford

Confidence level
high