Convolvulus althaeoides L.
Fully hardy, vigorous, slender, climbing or trailing perennial with heart-shaped, lobed, hairy, silvery-green leaves and axillary clusters of 1-3 widely funnel-shaped, clear pink flowers to 4cm across, in summer. To 15 cm. [RHSE, Hortus].
Horticultural & Botanical History
Flore des Serres figures the variety argyreus with silvery foliage. [FS f.1021/1855]. Introduced to Britain in 1597. [JD]. 'The name of Althaeoides and the description of Linnaeus accord much better with the figure of this plant, as given by Clusius, than with the plant itself as cultivated in our gardens: whether the foliage of our plant becomes smaller and more finely divided by cultivation; whether it be a distinct species, as Miller affirms, or a permanent variety, as Mr. Aiton makes it, we have not been able satisfactorily to ascertain; the former gives no description of the radical leaves of his elegantissimus, and we have not found in any of our gardens a variety different from the one here figured. This species of Convolvulus, though cultivated here by J. Tradescant in 1656, is far from being common, which is the more surprising, as the plant is easy of culture and productive of flowers at once large and beautiful, and peculiarly interesting from the extreme variableness of its silky foliage, expanding into the most elegant forms imaginable.' [BM t.359/1797].
History at Camden Park
Listed in the 1857 catalogue only [T.342/1857].
Notes
Convolvulus althaeoides Ten. = Convolvulus tenuissimus Sibth. & Sm.
Convolvulus althaeoides Thunb. (1807) = Convolvulus thunbergii Roem. & Schult.
Published Mar 09, 2009 - 03:32 PM | Last updated Jul 16, 2010 - 03:25 PM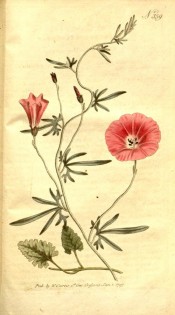 | | |
| --- | --- |
| Family | Convolvulaceae |
| Category | |
| Region of origin | Southern Europe |
| Synonyms | |
| Common Name | Bindweed |
| Name in the Camden Park Record | Convolvulus althaeoides |
| Confidence level | high |