Clematis montana Buch.-Ham. ex DC.
Fully hardy, very vigorous climber with profuse single white flowers, 5cm across, with creamy yellow anthers, borne singly or in short cymes, in spring. Pink forms are also grown. [RHSE, Hortus, Hilliers'].
Horticultural & Botanical History
'Certainly nothing can be more beautiful than [Clematis montana] for in the month of May, or even in April, on the south coast of England, it is one mass of the most brilliant snow-white blossoms tinged with a delicate pink. It is a species of the Flammula section, and not at all related to that called Cheiropsis, in which by some mistake it was stationed by DeCandolle. It is a hardy climber, flowering in May, and requiring the same treatment as the other hardy kinds of Clematis. It strikes freely from cuttings of the half-ripe wood, and grows very rapidly if planted in any strong rich soil. It is therefore well adapted for covering arbours, the flowers being sweet scented and produced earlier than any of the other hardy species. It was first brought from India by Lady Amherst, and distributed under the name of Clematis odorata, a name it still retains in some collections.' [BR f.53/1840]. Introduced to Britain in 1831. [FC p.45/1838]. Wallich pl.217/1832.
History at Camden Park
Listed only in the 1857 catalogue [T.322/1857]. It may have been obtained from Loddiges'. It was included among desiderata in a letter dated 16th April 1846 [MP A2933-1, p.147]. In a letter dated 13th February, 1848, Macarthur reported: 'the Clematis have since they came made shoots of 3 to 6 feet.' [MP A2933-1, p.172].
Notes
Clematis montana D.Don (1825) = C. napaulensis DC., a Himalayan species which, although described much earlier, was apparently not introduced to Europe until 1912.
Published Mar 05, 2010 - 10:05 AM | Last updated Jul 29, 2010 - 05:53 PM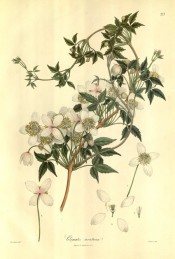 Family
Ranunculaceae
Category
Region of origin

China and Himalayas

Synonyms

Clematis anemoniflora D.Don
Clematis odoratum Hort.

Common Name
Name in the Camden Park Record

Clematis montana

Confidence level
high