Clematis aristata R.Br. ex DC.
Macarthur's 'Clematis sp. nova (Argyle)', an unidentified species or variety, is probably a form of Clematis aristata. This is a vigorous climber with ternate leaves, the leaflets usually simple, ovate and toothed, and white campanulate flowers. [FNSW].
Horticultural & Botanical History
Of the eight to ten recognised Australian species only four are native to New South Wales. Three of these, Clematis microphylla DC., introduced to Britain before 1817, Clematis aristata R.Br. ex DC., introduced in 1812, and Clematis glycinoides DC., introduced in 1826 or earlier. None of these on the surface fit the designation species nova. Clematis fawcettii F.Muell., described in 1876, only occurs in far north NSW and Queensland.
Perhaps the most likely identification is a variety of Clematis aristata R.Br. ex DC. This is a very variable species across its range, which is eastern Australia from Tasmania to Queensland and almost as far as South Australia to the west. The Australian Plant Names Index lists many varieties and synonyms. Such a variety is a possible identification for Macarthur's plant. Clematis aristata was figured in the Botanical Register: 'An unrecorded New Holland plant. Introduced most possibly since the publication of the last edition of the Hortus Kewensis. The species is dioecious, having fertile pistils with sterile stamens on one plant, and sterile pistils and fertile stamens on another. The name has been adopted from the Banksian Herbarium, and was suggested to Mr. Brown by the small intermediate point which extends itself beyond the loculaments or body of the anthers.' [BR f.238/1817].
Less likely is a variety of Clematis microphylla DC., possibly var. leptophylla F.Muell. ex Benth., described by Ferdinand Mueller in Bentham's Flora Australiensis in 1863. This is a frost hardy, vigorous climber with pinnate leaves and very small leaflets, to 3cm long, and a profusion of creamy-white flowers in spring [Hortus, FNSW, Wrigley]. The species occurs mainly west of the Great Dividing Range in higher country and cannot be discounted.
History at Camden Park
Listed only in the 1857 catalogue [T.330/1857]. The old county of Argyle, NSW, is situated on the Southern Tablelands, some 200 km south west of Sydney, with the city of Goulburn as its centre, and includes Taralga, the site of a Macarthur grazing property. William Macarthur probably collected this plant here. This plant was not recorded in his private herbarium.
Notes
Published Mar 05, 2010 - 11:51 AM | Last updated Jul 29, 2010 - 05:52 PM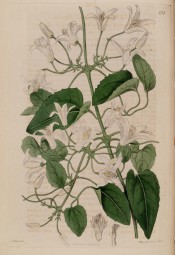 Family
Ranunculaceae
Category
Region of origin

Eastern Australia from Tasmania to Queensland

Synonyms

Clematis coriacea DC.
Clematis sanderi Watts.
Clematis stenosepala R.Br. ex DC.

Common Name
Name in the Camden Park Record

Clematis sp. nova (Argyle)

Confidence level
low