Breynia nivosa Small
Evergreen shrub with zigzagged pink or red stems with dark green leaves, to 5cm long, with bold white variegation. To 1m. [RHSD, Hortus].
Horticultural & Botanical History
Useful as a hedging species in tropical and sub-tropical regions. 'This plant, very commonly cultivated in gardens, and particularly used for hedges, in southern Florida, where it grows luxuriantly, has begun to spread beyond the limits of cultivated grounds. It makes itself perfectly at home in the pinelands and on the edges of hammocks. Specimens were collected near Miami in November, 1904, Small 2218. The plant is also becoming naturalized in the West Indies. [Contributions from the New York Botanical Garden vol.6, p.516/1909-12].
'A variegated-leaved Euphorbaceous stove plant of considerable beauty, from the South-Sea Islands. The leaves are cordate oblong, blunt, bright green, more or less variegated with pure white, and sometimes becoming nearly or quite all white, in which state it is very effective for contrast. The women of Tanna use it for head-dresses.' [Florist and Pomologist p.231/1873]. Figured in Illustration Horticole. [IH pl.332/1878].
History at Camden Park
Listed only in the 1857 catalogue [T.755/1857]. This is probably the Phyllanthus sp. obtained from the Sydney Botanic Garden on 17th October 1853 [RBGS AB]. Phyllanthus emblica L. is a less likely identification for Macarthur's 'Phyllanthus variegata'.
Notes
Published Feb 20, 2010 - 02:16 PM | Last updated Jul 18, 2010 - 03:26 PM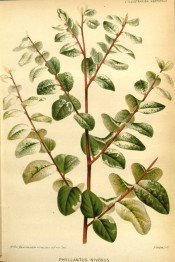 Family
Euphorbiaceae
Category
Region of origin

Pacific Islands

Synonyms

Breynia disticha Forst. & Forst.f.
Phyllanthus nivosus W.J.Sm.

Common Name

Snow bush

Name in the Camden Park Record

Phyllanthus variegata

Confidence level
medium