Boronia ledifolia (Vent.) DC. var. triphylla (Rchb.) Benth.
Half hardy bushy perennial shrub with usually solitary pink flowers. To 1.5m. [FNSW, Blombery, Beadle].
Horticultural & Botanical History
The Botanical Register described B. triphylla, the 'Three-leaved boronia', as 'one of the best of the Boronias with neat foliage and rich ruby-red, starry flowers. It was erroneously named B. ledifolia, an old greenhouse shrub, figured in Ventinat's plants of Malmaison, but it has no resemblance to it.' The variety latifolia, with deep pink flowers, is figured, the plant drawn at Loddiges' Nursery. [BR f.47/1841].
'Messrs. Loddiges imported from New Holland, many years ago, the seeds from which their existing stock of this plant was obtained. We learn from the catalogues, in fact, that it has been in England since the year 1814.' [MB p.123/1841].
History at Camden Park
Listed only in the 1857 catalogue [T.169/1857]. Probably collected by Macarthur or Bidwill. Found on sandstone heath and dry sclerophyll forest in the Sydney region. [Beadle].
Notes
Published Feb 14, 2010 - 04:28 PM | Last updated Jul 31, 2010 - 03:02 PM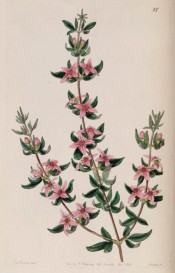 Family
Rutaceae
Category
Region of origin

Eastern Australia

Synonyms

Boronia ledifolia (Vent.) DC.
Boronia triphylla Sieber ex Rchb.

Common Name

Sydney boronia, Ledum boronia

Name in the Camden Park Record

Boronia triphylla

Confidence level
high