Berberis vulgaris L. var. dulcis
Although included separately in the Camden Park catalogues this plant is almost certainly Berberis vulgaris L., which see. The variety dulcis has no doubt been selected for the quality of its fruit over many generations. 'B. vulgaris dulcis. Sweet fruited. Very similar to the species. The fruit is a little larger and not quite so acid, and leaves bright green and shining. This variety should not be confounded with the before mentioned species, Berberis dulcis [Berberis buxifolia Lam. which see], as the latter has black fruit of the size of a large currant, which is solitary, while that of the former is produced in racemes.' [Fuller – The Small Fruit Culturist p.27/1914].
Horticultural & Botanical History
'Dodman', writing in The Gardeners Chronicle, said of Berberis dulcis: 'It is not common to see this plant full of fruit. If left to itself, it grows with long rambling shoots; it flowers, but produces no berries; but if the shoots are stopped, a bushy plant is produced, and plenty of fruit. I saw at Messrs. Paul's Nursery, Cheshunt, several plants covered with berries, not yet, however, ripe, so that I had no opportunity of ascertaining whether the fruit is fit for tarts, as is stated.' [Gard. Chron. July 19th, 1845].
There was considerable correspondence on the edibility of the fruit of Berberis dulcis in the columns of The Gardeners Chronicle of 1856 and 57, concluded by this editorial: 'Berberis dulcis may now definitely be placed among the smaller table fruits, along with Currants, Gooseberries and their allies'. Well established as semi-wild in parts of Britain. [Gard. Chron. 1857]. Saint-Hilaire Tr. pl.174/1825.
History at Camden Park
Listed in the 1845, 1850 and 1857 catalogues as 'Berberis dulcis' [T.147/1845].
Notes
Published Feb 24, 2010 - 03:30 PM | Last updated Jul 14, 2010 - 05:08 PM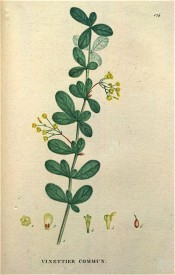 | | |
| --- | --- |
| Family | Berberidaceae |
| Category | |
| Region of origin | Europe including Britain |
| Synonyms | Berberis dulcis Hort. ex K.Koch. |
| Common Name | Common barberry |
| Name in the Camden Park Record | Berberis dulcis |
| Confidence level | high |