Berberis vulgaris L.
Fully hardy deciduous species mainly grown for its pendulous clusters of egg-shaped, bright red, translucent berries which follow the yellow flowers which appear in spring. To 3m. [RHSD, Hilliers'].
Horticultural & Botanical History
'The Barberry-bush, Berberis: This is a wild bush in some parts of England, but it is common every-where in gardens; it grows to eight or ten feet high in an irregular manner, and much branched. The bark is whitish and there are an abundance of prickles about the branches. The leaves are of an oval figure and strong green colour, and are indented about the edges. The flowers are small and of a pale yellowish colour; the fruit is sufficiently known; the berries are oblong, red, and of a sour taste. The branches are brittle, and, under the pale outer rind, there is another yellow and thicker. This is the part used in medicine; it is excellent in the jaundice, and has often cured it singly. It is also good in all obstructions. The best way to give it is infused in boiling water.' [Hill p.24]. Saint-Hilaire Tr. pl.174/1825.
History at Camden Park
Listed in all published catalogues [T.146/1843]. Berberis vulgaris is a recognised host of wheat rust. Did its introduction to Camden Park in 1843 or earlier play any part in the subsequent devastating outbreak of wheat rust?
Notes
The fruit of Berberis vulgaris L., the common Barberry, has long been used in cuisine and it is not always clear in the various articles concerning the culinary merits of the Barberry Berberis dulcis Hort. or Berberis dulcis Sw. are the subject. See also Berberis buxifolia Lam. and Berberis dulcis Hort. ex K.Koch.
Published Feb 24, 2010 - 03:21 PM | Last updated Jul 14, 2010 - 05:10 PM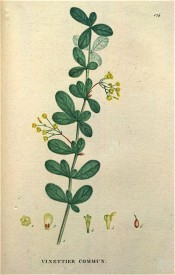 Family
Berberidaceae
Category
Region of origin

Europe including Britain

Synonyms

Berberis dulcis Hort. ex K.Koch
Berberis jacquini Hort. ex K.Koch

Common Name

Common barberry

Name in the Camden Park Record

Berberis communis – Barberry

Confidence level
high