Berberis darwinii Hook.
Fully hardy, vigorous, upright, evergreen shrub with spine-toothed, glossy green leaves and pendant racemes of 10-30 dark orange flowers in spring and sometimes autumn, followed by blue-black fruit. To 3m. [RHSE, Hortus].
Horticultural & Botanical History
'I cannot but regard this novel introduction as one of the nicest evergreen shrubs in the country, and likely to become a universal favourite'. [Gard. Chron. 1851]. It was collected by Thomas Lobb and marketed by Veitchs, who described it in glowing terms in The Gardeners Chronicle of the same year: 'This proves to be a species whose importance it is almost impossible to overate, inasmuch as it is exceedingly handsome, perfectly hardy, and naturally produces its rich orange blossoms in great profusion.' [Gard. Chron. 1851]. According to Johnson's introduced to British gardens in 1849.
'Of all the Berberries yet known in cultivation, no one certainly is more beautiful than the present, and, in my late visit paid to the two unrivalled Nurseries in Exeter, Messrs. Lucombe and Pince and Messrs. Veitch, it was a great treat to see this flourishing in the open air, in the collection of the latter (Messrs. Veitch), by whom it has been introduced from South Chili by their collector, Mr. William Lobb. The leaves are copious and glossy, the racemes of flowers are of a rich golden colour, and the peduncle and pedicels are often beautifully tinged with red. Its first discoverer was Mr. Darwin: and it appears to have been since found by every naturalist visiting Chiloe or the opposite coast of South Chili.' [BM t.4590/1851]. FC p.218/1851. PFG pl.46/1853. FS f.663/1851. HIP vol.7, t.672/1844. OFG f.64/1854.
History at Camden Park
Listed only in the 1857 catalogue [T.148/1857] but certainly grown at Camden by 1853 as plants were sent to the Sydney Botanic Garden in that year. [RBGS AB].
Notes
Published Feb 24, 2010 - 03:36 PM | Last updated Feb 24, 2010 - 03:41 PM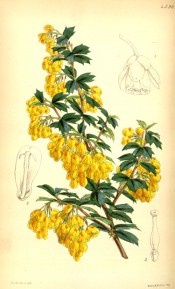 | | |
| --- | --- |
| Family | Berberidaceae |
| Category | |
| Region of origin | South America |
| Synonyms | |
| Common Name | |
| Name in the Camden Park Record | Berberis Darwinii |
| Confidence level | high |