Barleria strigosa Willd.
Probably Roxburgh's Barleria caerulea. Frost tender evergreen shrub with lance-shaped leaves and spikes of tubular, 2-lipped, blue flowers in summer. To 90cm. [Hortus].
Horticultural & Botanical History
Roxburgh first described Barleria caerulea in 1814 [Roxburgh Hort. Bengal. p.45/1814], providing further descriptions in Flora Indica in 1832. 'A middle-sized, erect, flowering shrub, cultivated in our garden, for the sake of its numerous, beautiful, large, light blue flowers. It is a native of the shady moist vallies, up amongst the mountain, through the Circars, also of Bengal. Flowering time the cold season.' [Roxburgh FI vol.3, p.39/1832]. It is now accepted as synonymous with Barleria strigosa Willd., this name published in 1800 [Sp. Pl. vol.3, p.379/1800].
It was also described by Wallich, who believed his plant to be a distinct species. His lovely illustration is used here. 'This beautiful species approaches very nearly to Barleria strigosa Willd., which is, I believe, Barleria caerulea of Roxburgh's manuscript Flora Indica; but it seems to differ in being far more hairy on all its green parts, and in the leaves being narrower. The accompanying representation exhibits the plant, which was reared in the Botanic Garden at Calcutta, from seeds gathered at Meaong on the Irawaddi, below Prome, on low, shady ground. The Tavoy specimens resemble this plant; but those I gathered at Prome and on Taong Dong, near Ava, have broader leaves, and ought perhaps to be referred to the species mentioned above. They are all very ornamental plants, on account of their large, lilac flowers, which are produced in great abundance during the cold season.' [Wallich pl.82/1830].
Introduced to Britain in 1823 [JD] but this date appears early and may refer to Roxburgh's Barleria caerulea.
History at Camden Park
Listed only in the 1857 catalogue [T.131/1857] although a plant was presented to the Sydney Botanic Garden by William Macarthur on September 15th 1847 [RBGS AB].
Notes
Barleria caerulea Herb.Lamb. ex Nees (1847) = Barleria cristata L.
Published Feb 22, 2010 - 10:51 AM | Last updated Apr 27, 2011 - 04:56 PM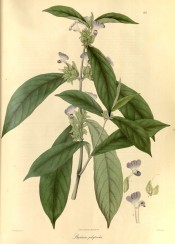 Family
Acanthaceae
Category
Region of origin

India

Synonyms

Barleria caerulea Roxb.
Barleria macrophylla F.Heyne & C.B.Clarke
Barleria polystachya Hook. ex Nees
Pseudobarleria coerulea Oerst.
Pseudobarleria polystachya Oerst.

Common Name
Name in the Camden Park Record

Barleria coerulea

Confidence level
medium