Asystasia scandens Hook.
Frost tender, evergreen twining plant or straggling shrub with terminal racemes of delicate, creamy white petunia-like flowers produced in abundance in racemes at the axils of every leaf. Flowers for several months. To 2m. [RHSD].
Horticultural & Botanical History
'A very ornamental climbing stove shrub, with terete stems, bearing opposite obovate thick, dark glossy green leaves, and terminal thyrse-like racemes of white flowers, becoming cream-coloured and tinged with blush.' [OFG f.62/1854].
First botanically described by John Lindley as Henfreya scandens: 'This species seems to be common at Sierra Leone; it was found there by Mr. George Don.' [BR f.31/1847].
Placed in the genus Asystasia by William Hooker: 'A remarkable African climbing Acanthaceous plant. Dr. Lindley had judged it to be nearly related to Thonning's Ruellia quaterna, to which indeed Dr. Nees von Esenbeck has without doubt referred it, and this again to his genus Asytasia. In this we follow him, preferring, however, Dr. Lindley's specific name, which is expressive, while that of Thonning can only tend to mislead, the number of the flowers being, in cultivation at least, anything but constant. This is one of the many fine plants introduced to our stove by Lord Derby, through the instrumentality of Mr. Whitfield. It flowers readily and remains a long time in blossom, in the Royal Gardens.' [BM t.4449/1849].
Hooker clarified the early naming confusion in Niger Flora: 'It is merely from inadvertence, in the hurry of drawing up Addenda without seeing the specimens, that Nees referred this plant to A. quaterna, after having in the text of Prodromus well alluded to the evidently close affinity of Thonning's plant to the A. Coromandeliana. In the A.scandens, not only is the general size of the plant and of the leaves very different from those described by Thonning, but the inflorescence and flowers at once preclude the possibility of uniting them. […] With regard to the genus, our plant cannot be separated from Asystasia: to which Lindley himself would probably have referred it, had the volume of the Prodromus been then published.' [Niger Flora p.479/1849].
Introduced to Britain in 1845 by Mr. Whitfield, to Lord Derby's garden. [JD]. FS pl.IX 5e Liv./1847.
History at Camden Park
Listed only in the 1857 catalogue [T.540/1857].
Notes
Published Feb 22, 2010 - 11:30 AM | Last updated Apr 27, 2011 - 04:23 PM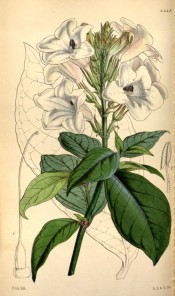 Family
Acanthaceae
Category
Region of origin

Sierra Leone

Synonyms

Henfreya scandens Lindl.
Ruellia quatema Thonn.

Common Name
Name in the Camden Park Record

Henfreya scandens

Confidence level
high