Araujia sericifera Brot.
An unidentified Physianthus or Arauja species, twining or climbing perennials. Physianthus is now generally included with Araujia and Physianthus tricolor may be another Araujia species. Possibly Arauja sericifera Brot. which is described and illustrated here, although it is difficult to see how the specific epithet tricolor applies to this plant.
Horticultural & Botanical History
The only Physianthus species listed in Paxton's and Johnston's Dictionary is Physianthus albens G.Don, with white flowers. This is recorded in the Flora Australiensis as an introduced species naturalised at Moreton Bay. 'Araujia albens, G. Don; Dcne. in DC. Prod. viii. 534 (Physianthus albens, Mart. Not. Gen. et Sp. t.32, Bot. Mag. t.3201, Bot. Reg. t.1759). A twiner, with ovate or lanceolate leaves, truncate or cordate at the base, white underneath as well as the young shoots. Flowers large for the Order. Calyx-segments broad, leafy. Corolla with a broad tube and a campanulate 5-lobed limb. Corona of 5 fleshy segments attached to the corolla-tube at the base, the upper portion hood-shaped or convex with revolute margins. Pollen-masses pendulous. A native of S. Brazil, said to have spread from gardens into the neighbourhood of Moreton Bay.' [FA vol.4, p.326/1869]. Figured in Curtis's Botanical Magazine t.3201/1832.
History at Camden Park
Physianthus tricolor was a desideratum to Loddiges' Nursery, 6th January 1845 [MP A2933-2, p.28]. Physianthus albus (not albens) is listed in the 1836 Catalogue of Plants from Loddiges' Nursery, a copy of which is held at Camden Park [CPA]. Araujia sericifera is a very common weed in many parts of Australia, including the Camden district.
Notes
Published Feb 24, 2010 - 09:17 AM | Last updated Jul 14, 2010 - 02:46 PM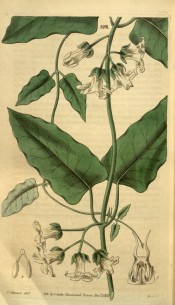 Family
Asclepiadaceae
Category
Region of origin

South America

Synonyms

Araujia albens (Mart.) D.Don
Araujia hortorum E.Fourn.
Physianthus albens Mart.

Common Name

Moth plant, Cruel plant, White blader flower

Name in the Camden Park Record

Physianthus tricolor

Confidence level
low