Aloe ferox Mill.
Stemmed aloe, to 4m, with a rosette of thick, tapering leaves, keeled at the back, glaucous, with reddish teeth along the leaf edges and backs, with ornage flowers on a branched inflorescence. [RHSD, Hortus].
Horticultural & Botanical History
First botanically described by Miller in his Gardener's Dictionary [Gard. Dict. ed.8, n.22/1768].
'The Great Hedge-hog Aloe is a very old inabitat of our greenhouses, and is the loftiest of the whole genus, sometimes reaching, Mr. Haworth says, to the height of nearly twenty feet. But although there are many old plants in the country, it has been very rarely known to flower; so rarely, that we do not remember to have heard any one say that they had seen it in this state, nor does it appear that even Mr. Haworth himself, who has paid so much attention to this tribe of plants, had ever seen it in blossom at the time of his last publication. The Hortus Kewensis fixes April and May as its flowering season, but probably it has never blossomed there: M. De Candolle says it flowers in the winter. Our drawing was taken in January last, from a plant in the possession of Thomas Hitchen, Esq. of Norwich, whose liberality in sending us an excellent drawing, with specimens of the flowers and foliage, we thankfully acknowledge. […] Aloe ferox is a native of the Cape of Good-Hope. Cultivated by Miller in 1759.' [BM t.1975/1818].
History at Camden Park
Aloe ferox is marked with a 'c' in an 1836 edition of Loddiges' catalogue held at Camden Park [CPA]. In William Macarthur's code, used and explained elsewhere, this means grown at Camden. It is almost certain that it was grown in the gardens around this time but may have been short lived as it did not appear in the catalogues.
Notes
Published Apr 01, 2010 - 11:43 AM | Last updated Mar 05, 2012 - 02:54 PM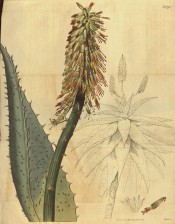 Family
Aloaceae
Category
Region of origin

South Africa

Synonyms

Aloe galpini Baker
Aloe horrida Haw.
Aloe muricata Haw.
Aloe pallance Guillaumin
Aloe perfoliata var. ferox (Mill.) Aiton
Aloe pseudoferox Salm-Dyck
Aloe subferox Spreng.
Aloe supralaevis Haw.
Busipho ferox (Mill.) Haw.
Pachidendron ferox (Mill.) Haw.
Pachidendron pseudoferox (Salm-Dyck) Haw.
Pachidendron supralaeve (Haw.) Haw.

Common Name

Great hedge-hog aloe

Name in the Camden Park Record

Aloe ferox

Confidence level
high