Agave americana L.
Frost-hardy, succulent perennial with rosettes of spreading, lance-shaped, spine-tipped, grey-green leaves, to 2m long, and panicles up to 8m long, bearing clusters of yellowish-green flowers in summer. [RHSE, Hortus].
Horticultural & Botanical History
First botanically described by Linnaeus in 1853 [Sp. Pl. p.323/1753]. 'Agave americana. This plant is commonly known as American aloe, but it is not a member of that family, as it claims kindred with the Amaryllis tribe of plants. It grows naturally in a wide range of climate, from the plains of South America to elevations of 10,000 feet. It furnishes a variety of products. The plants form impenetrable fences; the leaves furnish fibers of various qualities, from the fine thread known as pita-thread, which is used for twine, to the coarse fibers used for ropes and cables. Humboldt describes a bridge of upward of 130 feet span over the Chimbo in Quito, of which the main ropes (4 inches in diameter) were made of this fiber. It is also used for making paper. The juice, when the watery part is evaporated, forms a good soap (as detergent as castile), and will mix and form a lather with salt water as well as with fresh. The sap from the heart leaves is formed into pulque. This sap is sour, but has sufficient sugar and mucilage for fermentation. This vinous beverage has a filthy odor, but those who can overcome the aversion to this fetid smell indulge largely in the liquor. A very intoxicating brandy is made from it. Razor strops are made from the leaves; they are also used for cleaning and scouring pewter.' [Saunders - U.S. Department of Agriculture: Catalogue of Economic Plants p.4/1891].
Introduced to Britain in 1640. [JD]. ABR pl.433/1805.
History at Camden Park
Listed in the 1850 and 1857 catalogues [T.37/1850]. Still present in the gardens.
Notes
Common around old settlements in most states of Australia. The illustration used here is a photograph of plants growing at the old mining town of Sebastopol in the Riverina district of NSW. No buildings survive but large healthy clumps of Agave americana are scattered across the site.
Published Feb 22, 2009 - 11:56 AM | Last updated Oct 30, 2011 - 05:02 PM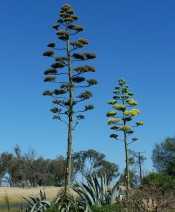 Family
Agavaceae
Category
Region of origin

South America, Mexico

Synonyms

Agave altissima Zumag.
Agave spectabilis Salisb.
Aloe americana (L.) Crantz

Common Name

American aloe, Century plant

Name in the Camden Park Record

Agave Americana

Confidence level
high