Achimenes erecta (Lam.) H.P.Fuchs var. rosea
Horticultural & Botanical History
Johnson's Dictionary and Paxton's Dictionary list Achimenes rosea as a true species from Guatemala with pink flowers growing to 45cm. 'It is one of the most charming plants in our garden, with the habit and general structure of A. coccinea, and the same tendency to pour forth masses of blossoms, but with deep rich rosy flowers instead of scarlet ones. How it differs from it otherwise it is not indeed very easy to say; unless it is that the peduncles are more slender, with more spreading hairs; and a general tendency to branch. The proportion, too, between the limb and tube of the corolla seems materially different; and the leaves are covered with elevated asperities on each of which a hair is placed. Mr. Hartweg found it in Guatamala, and sent roots of it to the Horticultural Society, [in 1841] in whose garden it has flowered for the last three months. It will soon be common: but it will not be possible for the Society to commence its distribution before the succeeding spring. It proves as easy to manage as the common A. coccinea. The stems die off after flowering, and the roots must then be kept perfectly dry throughout the winter, and spring before it begins to grow. When it shews signs of growth it should be repotted and divided if necessary, and then put in a situation near the light and freely watered. It is best to start it in a gentle heat, such as in a warm greenhouse, or cucumber frame, to enable it to form its stems and flower-buds, and then it may be brought out to flower in the conservatory or sitting room. It will grow in any rich free soil, and may be propagated by cuttings, or by the numerous imbricated buds which it forms both underground and on the stem.' [BR f.65/1841]. FC p.1/1842. FC p.194/1847. BF p.156/1844.
History at Camden Park
Listed in the 1850 and 1857 catalogues [B.15/1850]. Obtained from Kew Gardens, brought out from England by Captain P. P. King in 1849. In the confirmatory list sent by Macarthur to King it is marked with an 'x', meaning common before or long introduced. [ML A1980-3].
Notes
Published Aug 25, 2009 - 04:55 PM | Last updated Aug 25, 2011 - 04:17 PM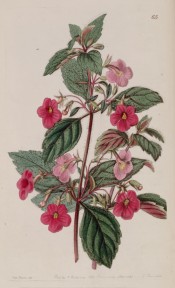 Family
Gesneriaceae
Category
Region of origin

Guatemala

Synonyms

Achimenes rosea Lindl.
Achimenes coccinea var. rosea (Lindl.) Hanst.

Common Name

Achimenes, Hot water plant, Cupid's bow

Name in the Camden Park Record

Achimenes rosea

Confidence level
high