Achimenes erecta (Lam.) H.P.Fuchs
Frost-tender, long-stemmed, trailing, rhizomatous perennial, with leaves dark green above, often red-flushed beneath, and numerous solitary, long-tubed, bright red or rose-pink flowers from summer to autumn. To 45cm. [RHSE, GRA p.12].
Horticultural & Botanical History
'This beautiful exotic is a native of Jamaica; Dr. Browne found it near Hope River, in the lower mountains of Liguanea; he recommends that it be cultivated as an ornamental plant, says that it thrives best in a cool gravely soil, well furnished with moisture, and intermixed with a rich soil; to this country it was introduced by Mr. William Forsyth in 1778, and is now generally cultivated in our stoves.' [BM t.374/1797].
History at Camden Park
Listed in the 1845, 1850 and 1857 catalogues [B.3/1845]. Probably obtained from Loddiges' Nursery, either in a case of plants brought back by Bidwill or in a direct importation in late 1844. Concerning the latter Macarthur wrote on 6th January 1845 that he now had Achimenes. [MP A2933-2, p.28]. A letter to Bidwill on the 25th November makes it clear that A. coccinea was included. [MP A2933-2, p.98]. It was also obtained from Kew Gardens, brought out from England by Captain P. P. King in 1849. In the confirmatory list sent by Macarthur to King it is marked with an 'x', meaning common before or long introduced. [ML A1980-3]. Probably originally obtained before 1843 as Trevirana coccinea is recorded in the 1843 catalogue under Herbaceous Plants but is missing from the 1845 edition. See also Achimenes erecta 'Pyropaea'.
Notes
Published Feb 01, 2009 - 12:20 PM | Last updated Aug 25, 2011 - 03:10 PM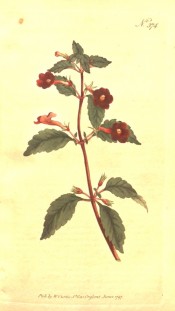 Family
Gesneriaceae
Category
Region of origin

Central America

Synonyms

Achimenes coccinea (Scop.) Pers.
Achimenes pyropaea Lindl.
Achimenes pulchella Hitchc.
Cyrilla pulchella L'Herit.
Columnea erecta Lam.
Trevirana coccinea Willd.

Common Name

Achimenes, Hot water plant, Cupid's bow

Name in the Camden Park Record

Achimenes coccinea

Confidence level
high