Prestonia venosa G.Nicholson
Frost-tender, climbing or twining woody vine with oval, opposite leaves, to 15cm, and clusters of up to 20, red-veined yellow-green flowers in summer. [RHSD].
Horticultural & Botanical History
'This plant was sent from the botanic garden at St. Vincents to that of the Horticultural Society at Chiswick, by Mr. George Caley, late superintendant of the former establishment. […] Mr. Caley informs us, that the garden at St. Vincents was in some places overrun with this plant, but that it flowered in one spot only; he observes also, that there was a variety of it in the garden with white or silvery veins instead of red, so that this character is by no means constant. Native of the West Indies. Requires to be kept in the stove. Our drawing was taken at the Horticultural Society's garden, in September 1823.' [BM t.2473/1824]. Introduced to Britain in 1821. [JD].
History at Camden Park
Listed in the 1850 and 1857 catalogues [T.403/1850]. See also Mandevilla longiflora (Desf.) Pichon.
Notes
Published May 29, 2009 - 04:09 PM | Last updated Jul 14, 2010 - 12:21 PM
---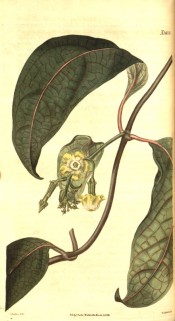 More details about Prestonia venosa G.Nicholson
Family
Apocynaceae
Category
Region of origin

South Africa

Synonyms

Prestonia quinquangularis (Jacq.) Spreng.
Echites nutans Anders.
Haemadictyon venosum Lindl.

Common Name
Name in the Camden Park Record

Echites nutans

Confidence level
high